Welcome to Vista Social! This article covers all the basics of setting up your Vista Social account. We'll introduce you to the Vista Social Dashboard with all the core actions available including how to connect your social profiles, how to add team members, how to schedule your first post, view analytics, and more! 🚀
Video Guide
Getting Started on Vista Social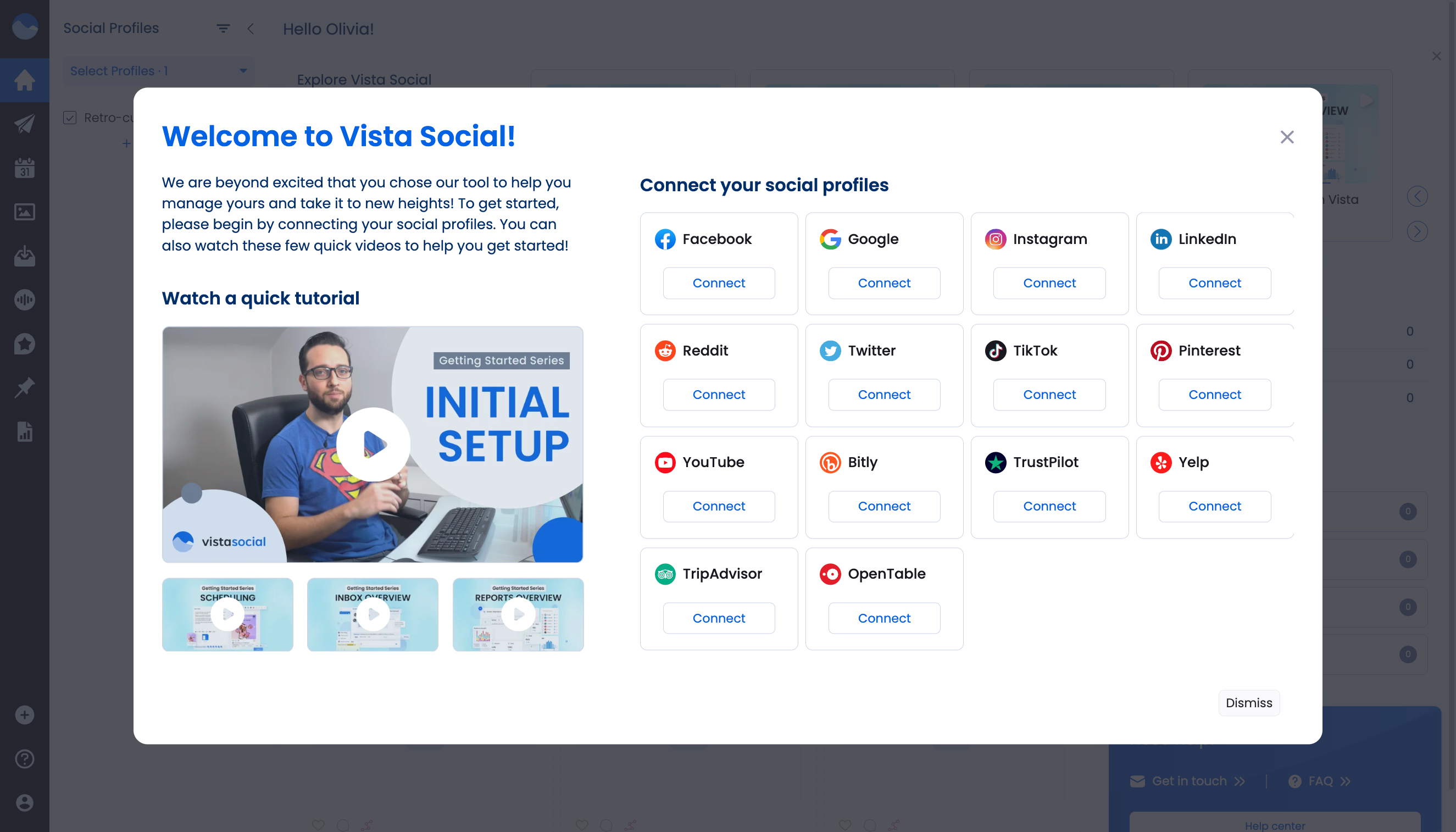 Once you have created your account, you will be directed to your dashboard where the first step is to connect the social profiles that you want to manage. With Vista Social, social profiles are grouped by profile groups to ensure that content and reports from different brands do not get mixed up with each other (learn more about creating profile groups here).
After setting up a profile group, click the Connect social profiles in the Initial setup guide on your dashboard and select a social network you want to connect. Follow the prompts to connect your social profile and make sure that you allow all permissions (do not modify the permissions otherwise it will cause problems later on).
Alternatively, you may also go to Settings and select Connected Profiles to add new profiles:
Once the social profiles are connected, the next step is to add your team members. To do so, go to Settings > Team Members > Add team member. Fill out user information such as First Name, Last Name, and Email Address.
Determine the user role if you want them to become an admin or a restricted user. You may change user roles at any time later.
Before you get started in creating content in your calendar, we highly recommend enabling your browser notifications so you get alerts for whenever your posts go into error! To enable this, go to Settings > Accounts. Scroll down to Browser Notifications and click Subscribe.
4. Schedule your first post
Now that you have added your profiles and users, you are now ready to schedule your first post! There are many ways to schedule a post with Vista Social:
To access the publishing options, go to Create and select how you'd like to schedule your content:
Make sure that the correct profile group and profiles are selected before you schedule your post.
Once you have the correct social profiles selected, add your post in the content field and check the preview per profile on the right-hand side of the window to ensure that each post per network looks exactly the way you expect them to:
Select the time to post and click Schedule.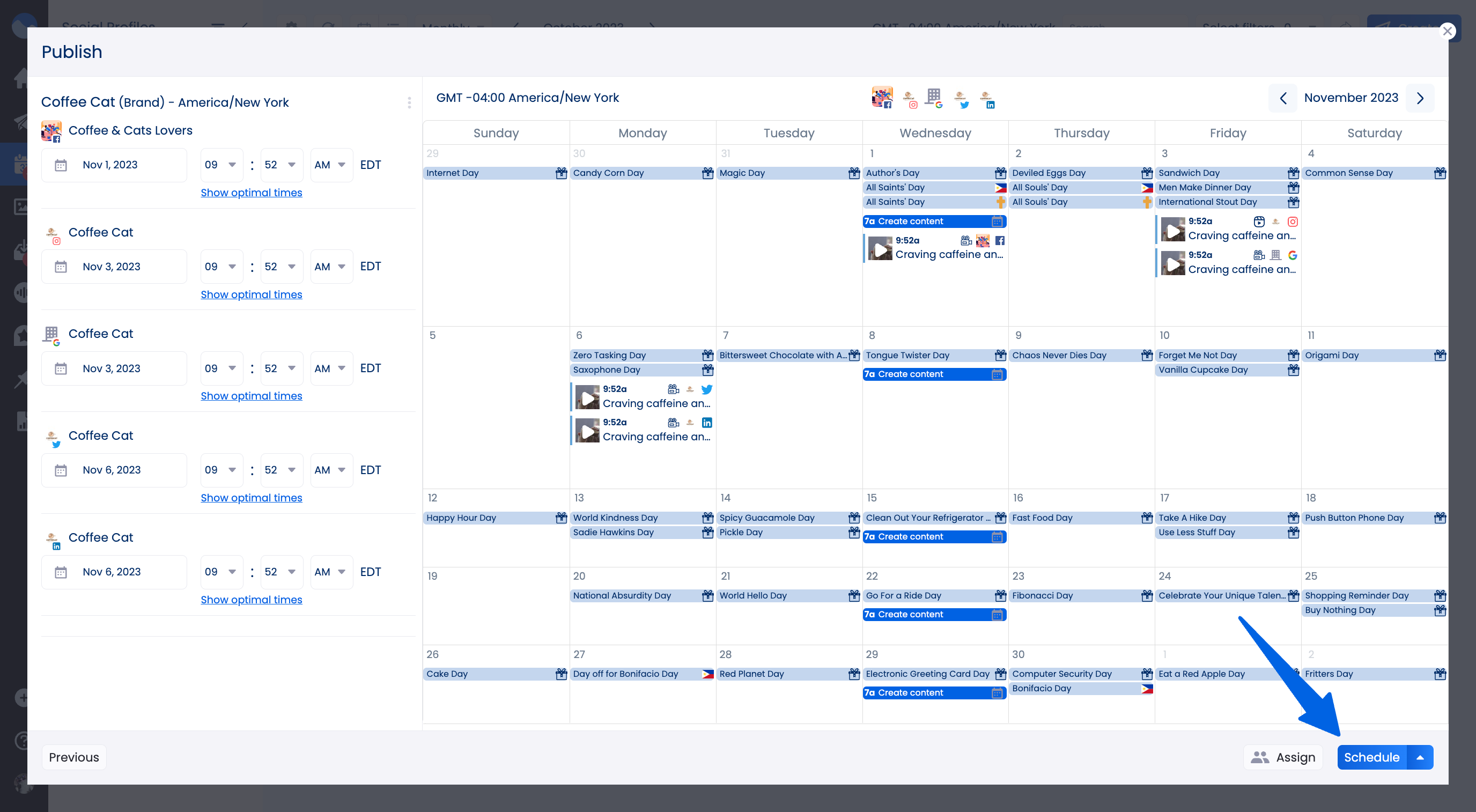 After scheduling your first post, the next step is to check your Inbox. With Vista Social, you can monitor your social media activity straight from your dashboard. Depending on the network, the inbox allows you to view and respond to comments, mentions, messages, reviews, and shares.
To filter your inbox activity, go to Inbox and click Filter on the upper right-hand of the page:
Use the Reply field to respond to messages and comments and switch to the Note tab to leave internal comments to other team members.
Create listeners that will monitor your network for conversations containing specific keywords. To create a listener, click Listening on the menu and select Add Listener. Select the list of profiles you want included in the search then add the following information: listener name, included and excluded keywords.
Once you have created your listener, it should now appear on your list of listeners. Here you will see the name of the listener, the number of profiles, and the status of the listener.
(Note: This feature is only available to Pro users. Subscribe to a Pro Plan now.)
Get some analytics on your connected profiles by generating a report. Note that it takes 2-3 hours for the first data analysis to complete so if you have just connected your profiles, please wait a couple of hours before running your first report.
Types of reports you can generate with Vista Social:
To immediately run a report, click Reports on the homepage and select Run report.
Choose a report type, and date range, then click Download.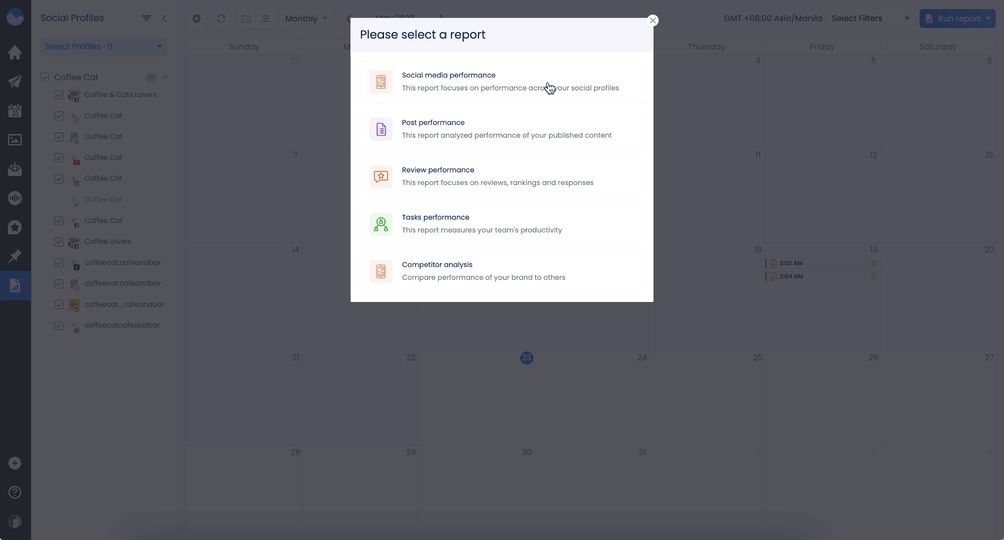 Note that you may also schedule a report at a later time or create a custom report if you want to choose specific metrics shown in your report.
Related articles:
Getting started with review management on Vista Social
----
Sign-up now and enjoy Vista Social's fully featured free plan as you get started, or try our full toolkit priced to make social media management affordable!