Tired of logging in and out of multiple social media profiles to respond to comments and messages? Manage them in one inbox with Vista Social! 📥
What is Inbox?
Vista Social's Inbox is a feature that allows you to view and respond to comments and messages on social media. This means that you no longer have to log in to multiple social media profiles to respond to direct messages -- simply connect all the profiles that you manage and monitor them all in one inbox!
Types of Content
Below is the list of items you can do in the Vista Social Inbox:
View and Reply to Comments - Facebook, Instagram, Twitter, Google My Business, YouTube, Linkedin
View and Reply to Mentions - Twitter
View and Reply to Messages - Facebook, Twitter, Instagram
View and Reply to Reviews - Google My Business
View and Reply to Shares - Facebook
How Is It Organized?
To make it super simple, the inbox is organized by social profiles so you can select which profiles you wish to see.
Viewing Messages
Scroll through your messages to find the conversation you want to respond to, or simply type keywords in the search bar at the top to quickly find the message that you are looking for.
Responding to Messages
Responding to a message is pretty straightforward. At the bottom of the viewing pane is the reply box where you can type your response. Or if you want to send an internal note to your team, select Note to leave a comment on the conversation that other users can see.
Simply click the Send icon and you're all set!
Inbox Features
1. Message filter - allows users to control what messages will be seen in the inbox. To filter your inbox, click Filter on the upper right-hand of the screen and select the message type you want to see. Check out this article for more information.
2. Internal Notes - allows users to tag another user and they will be notified. This is useful for any internal communication between team members on how to handle the message.
3. Message labeling - adding labels to the conversation allows users to easily find it using the search box.
4. Assign as task - you can assign any conversation to a team member and create a task to ensure that it is being handled by someone in your team. Simply click the Pin icon beside the message to open the option to create a task.
5. Like posts - some networks allow you the ability to like/favorite a comment or mention. If the network supports it, you will see an icon to like the post right next to it.
| | |
| --- | --- |
| | Note: At this time, messages and comments come in real-time for Facebook and Instagram only. For all other networks, inbox updates occur on a refreshed schedule, typically every 5-6 hours. |
6. Mark conversations as spam/archive: You can mark conversations as spam and archive them to organize your inbox to see messages and comments that are relevant and important to respond to.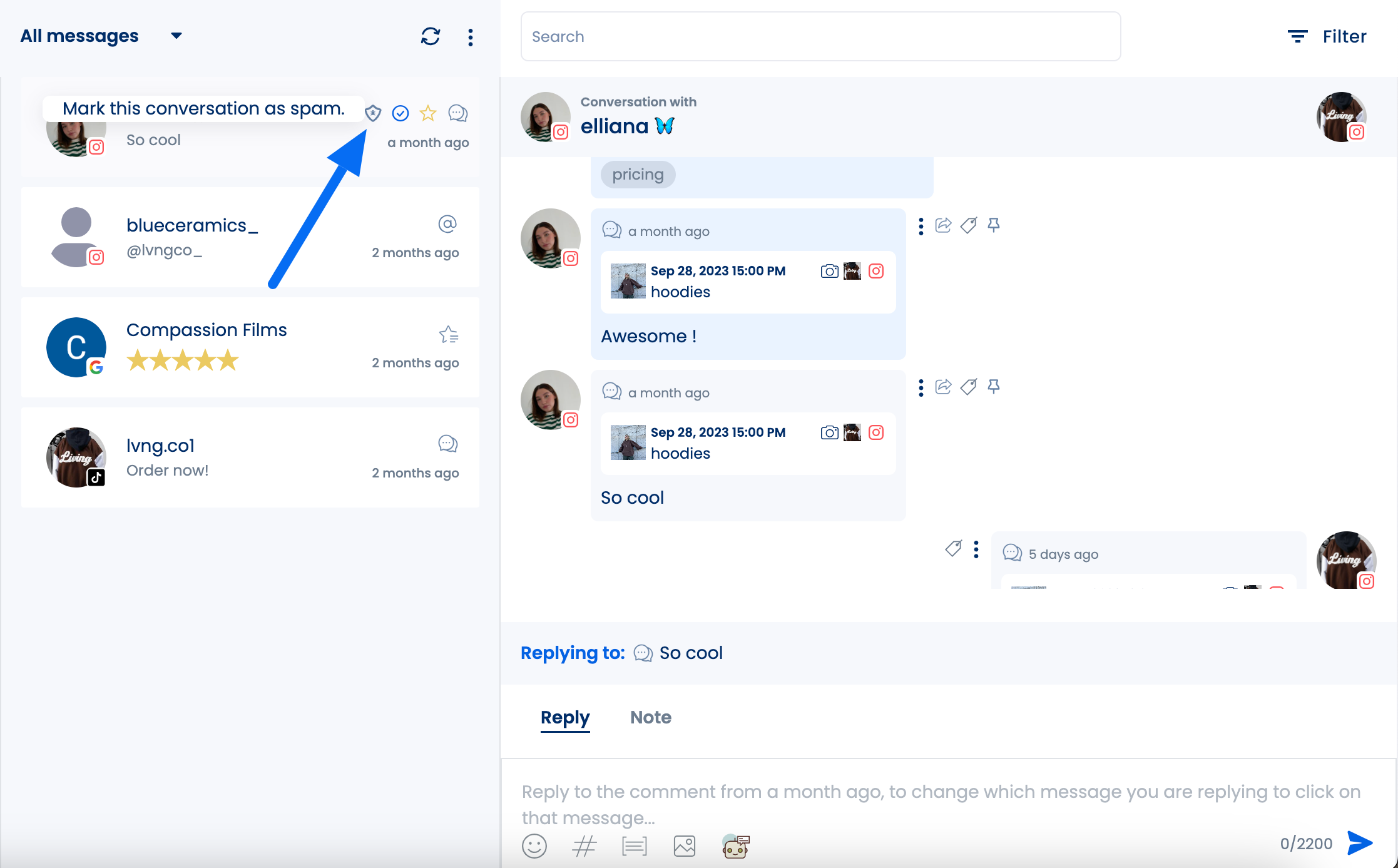 7. Mark conversations as acknowledged: You can mark conversations as acknowledged for messages and comments that you have seen but don't need an urgent response, or simply don't need one.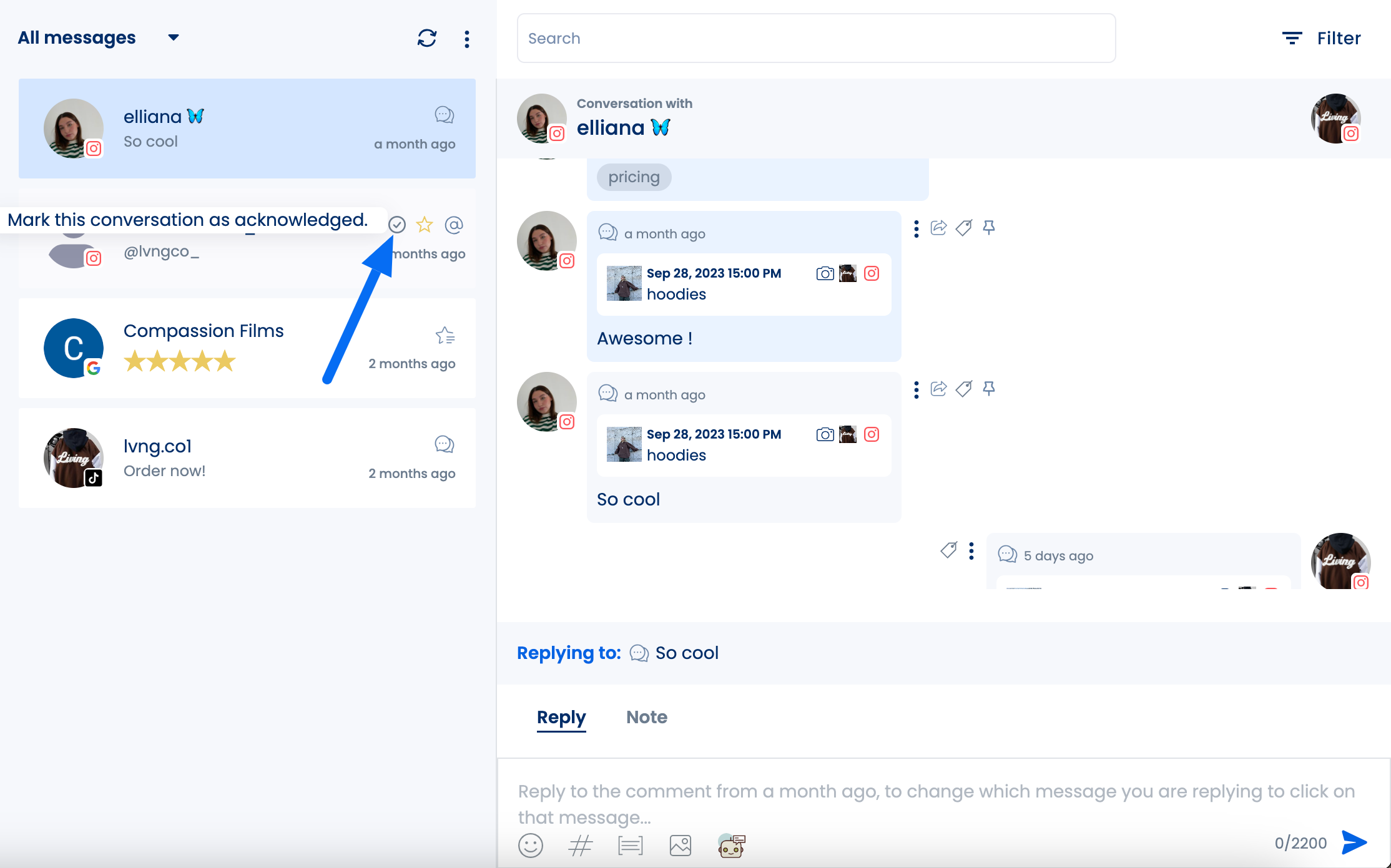 8. Star messages: you can mark messages as starred for conversations that stand out or messages that are favorites.
You can later locate these conversations by clicking on the message type in the top left-hand corner (the unread view is by default!)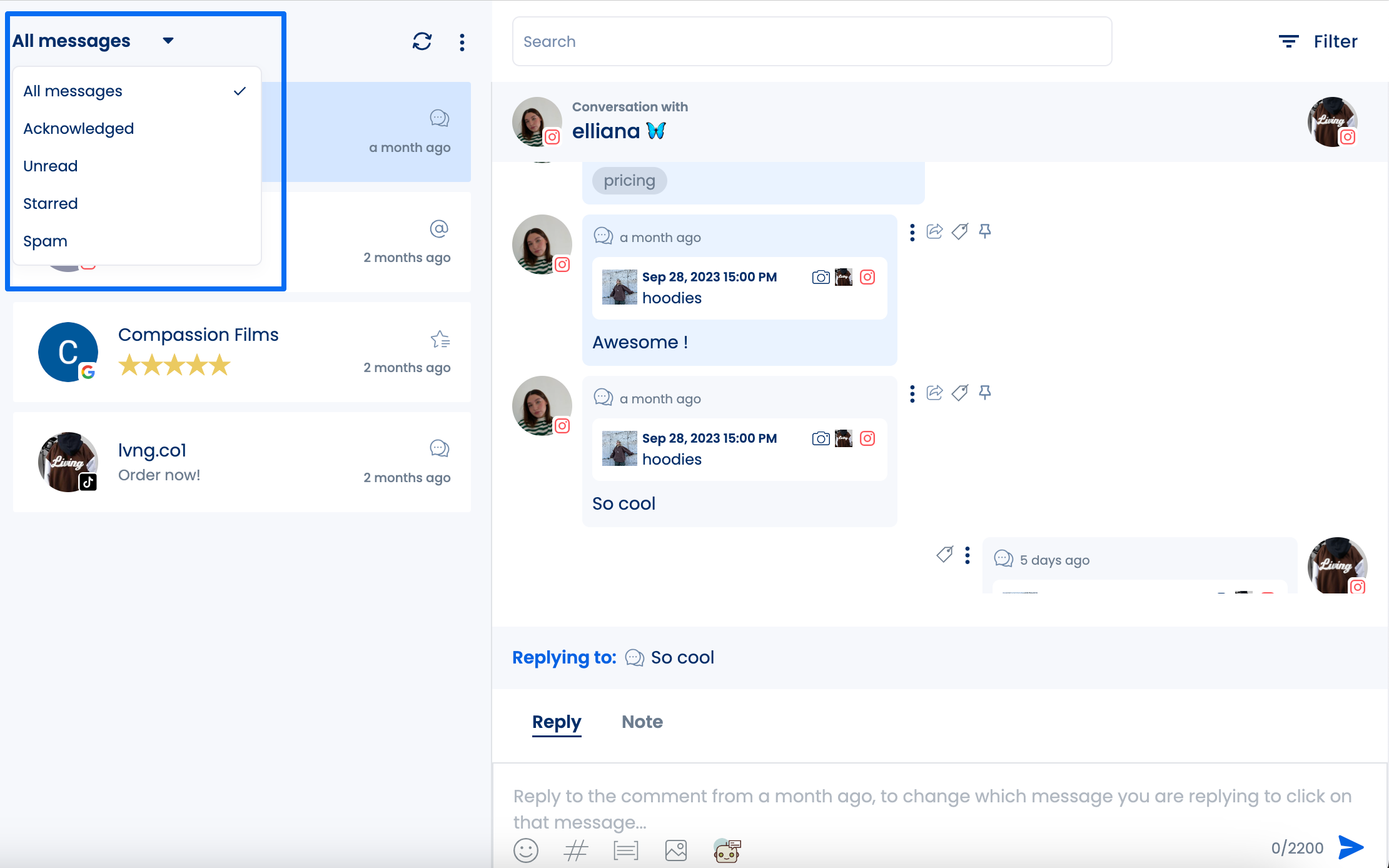 Related Reading:
How to use internal notes in Inbox
Replying to specific messages in a conversation
----
Sign-up now and enjoy Vista Social's fully featured free plan as you get started, or try our full toolkit priced to make social media management affordable!