Go above and beyond when scheduling posts for your clients by customizing it right on Vista Social! Depending on the network, users of Vista Social have the ability to add a different caption, add a first comment, first like, call to action buttons, and more as they schedule content on the platform. This article shows you how to customize your posts per social network in Vista Social.
Why post customization is important
In social media marketing, there is no one-size-fits-all solution when it comes to scheduling content. Customizing posts is important for companies and agencies so their content matches with what their social media marketing goals are.
Post customizations such as first comment or like is a valuable tactic to boost engagement on your post. It is a great way to get your content in front of more users as well without spending additional money.
Post customizations available by network
Facebook
Caption editor - edit the caption for the Facebook version of the post
First comment - automatically adds a comment to the post once published
Call to action button - links to any destination on or off Facebook that aligns with the business goals
Publish as image - removes the link preview and publishes the post as a text + image only
Audience targeting - the post will focus on certain demographics: by country, relationship status, gender, or age.

Instagram
Caption editor - edit the caption for the Instagram version of the post
User tagging - the ability to tag Instagram users (public profiles only)
First comment - automatically adds a comment to the post once published
Location tagging - the ability to add a location to the post
Enable/disable comments - by default, users can comment on the post but you may disable this at the time of scheduling

Linkedin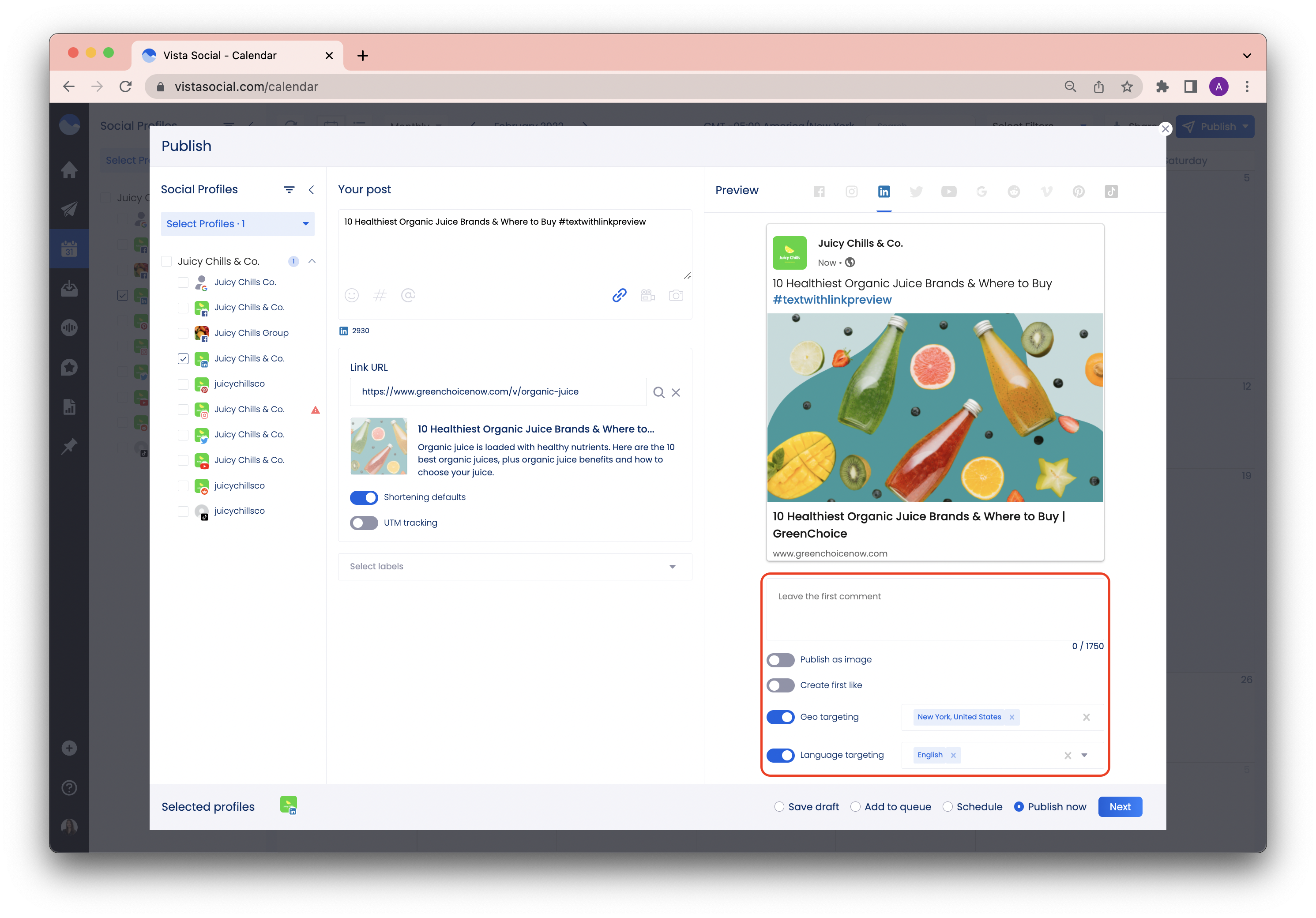 Caption editor - edit the caption for the LinkedIn version of the post
First comment - automatically adds a comment to the post once published
First like - automatically likes the post once published
Audience targeting - allows you to reach a specific audience based on location or language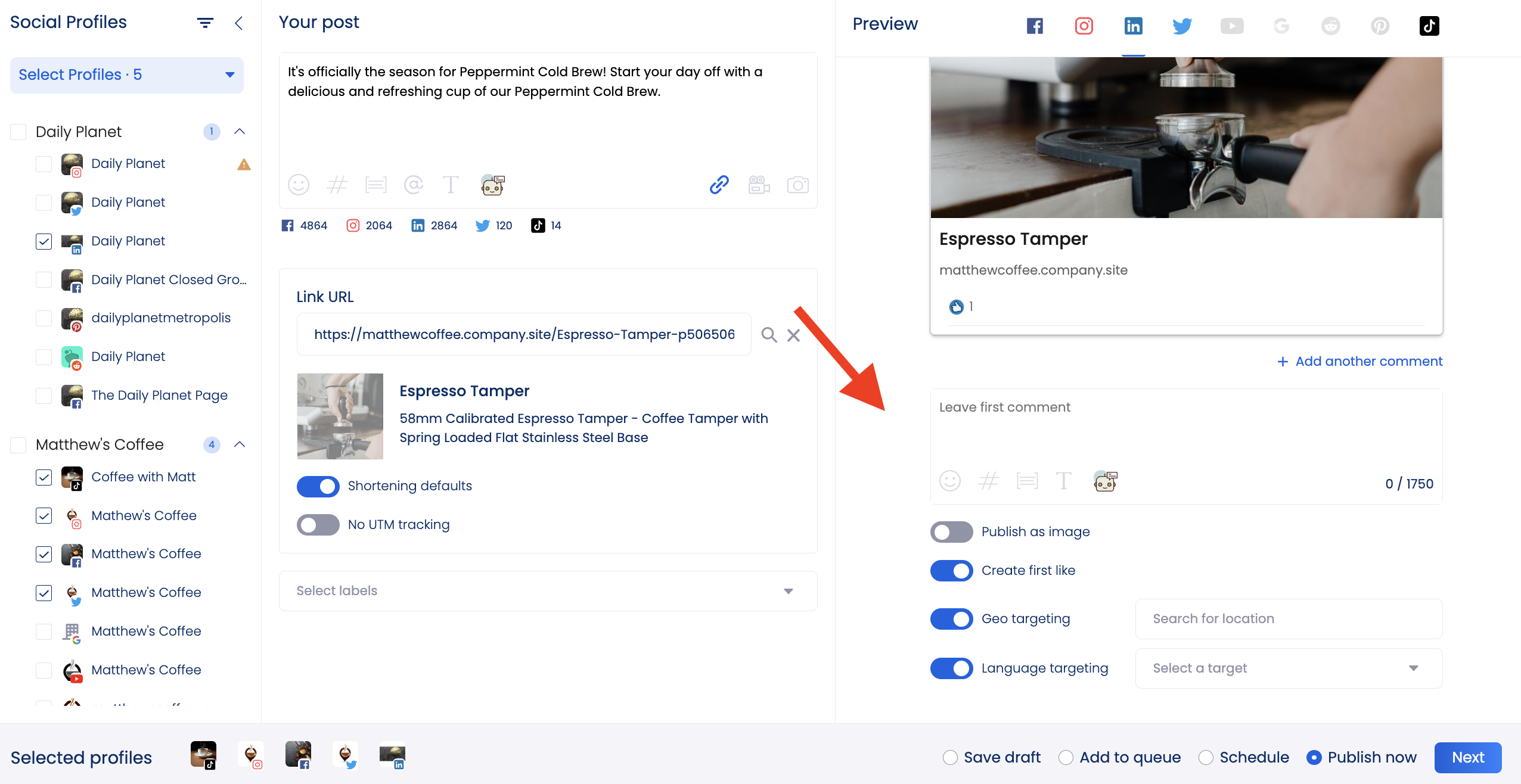 Twitter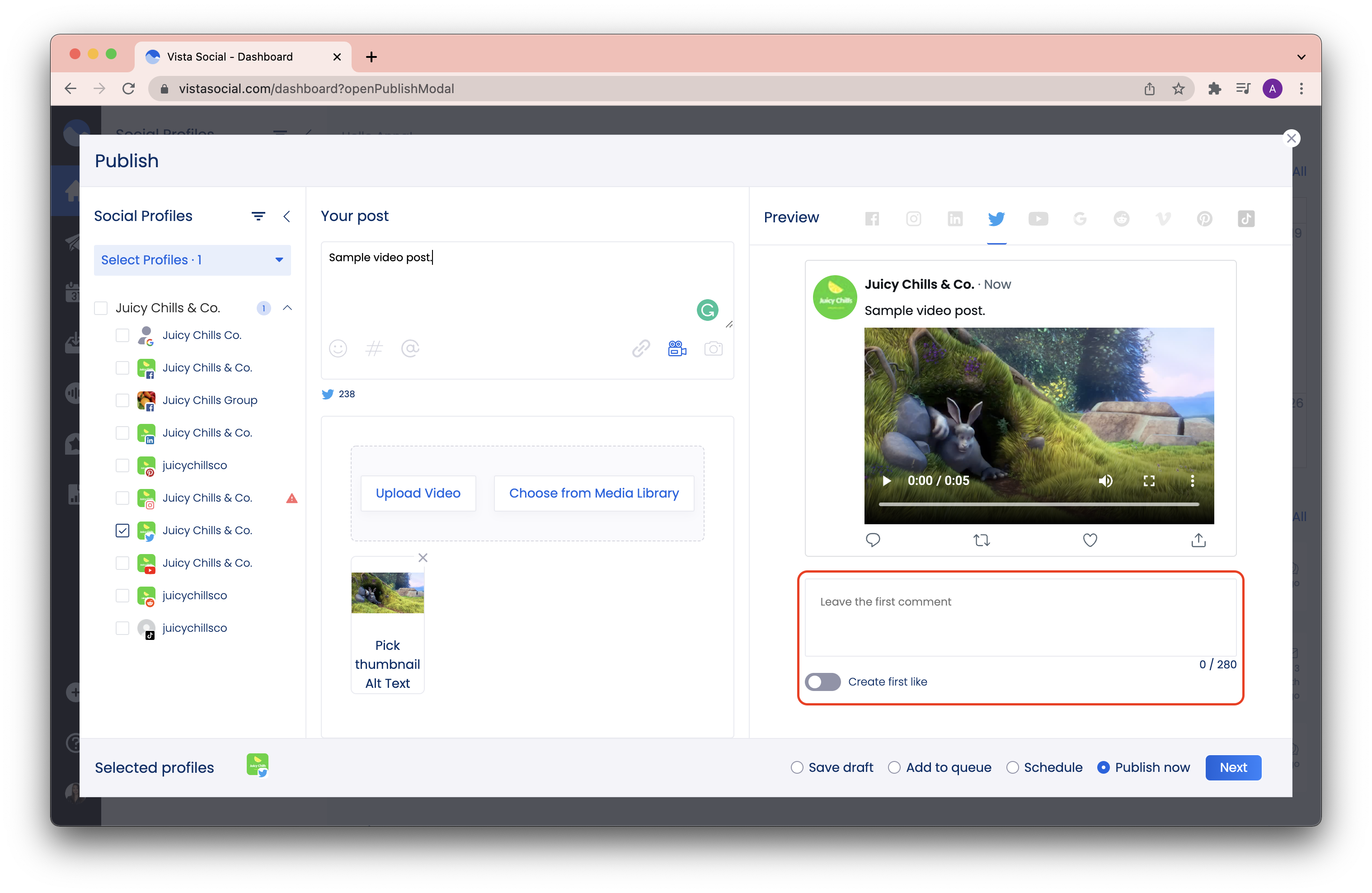 Caption editor - edit the caption for the Twitter version of the post
First comment - automatically adds a comment to the post once published
First like - automatically likes the post once published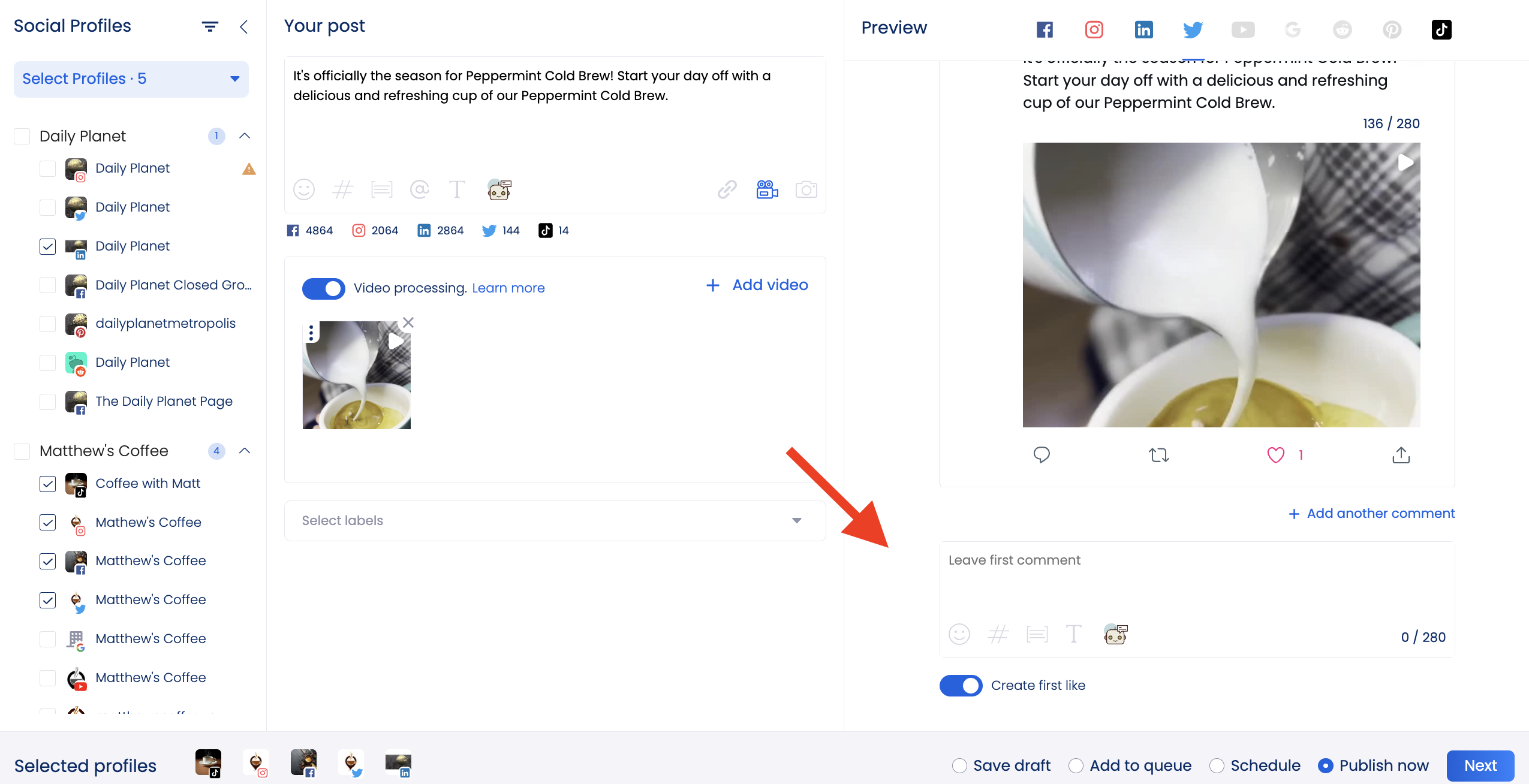 Google My Business
Caption editor - edit the caption for the Google Business version of the post
Call to action options: Book, Order, Shop, Learn More, Sign up, Call
Post type options: Standard, Event, Offer, Alert
Youtube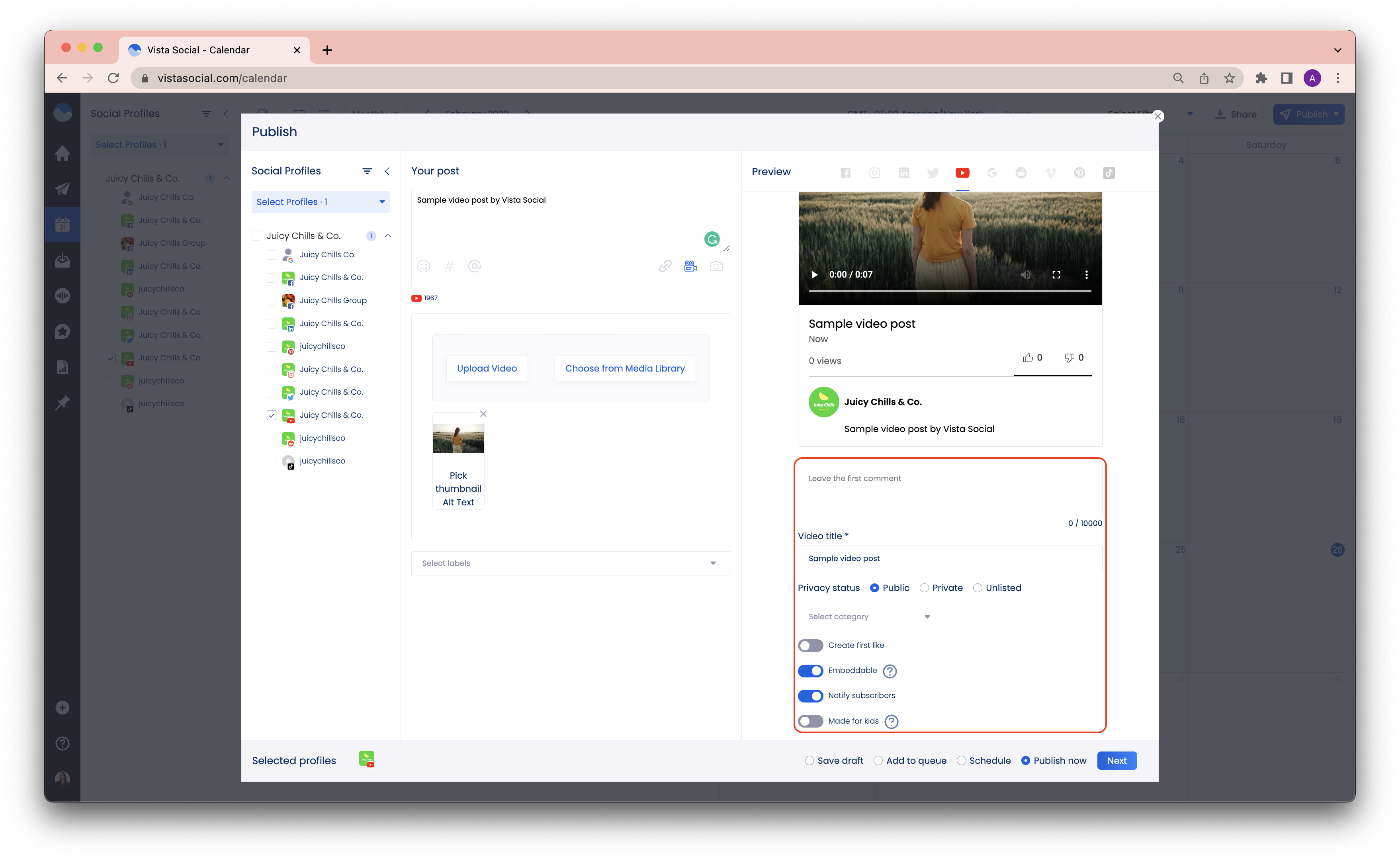 Caption editor - edit the caption for the YouTube version of the post
First comment - automatically adds a comment to the post once published
First like - automatically likes a post once published
Privacy status - option to publish the video as public, private, or unlisted
Embeddable - allows others to embed your video on other sites
Notify subscribers - notifies the subscribers once the video is published
Made for kids - prevents/allows underage users from watching your video