In this guide, we'll go over how to schedule Facebook stories with Vista Social with:
Auto Posting Facebook Stories with Vista Social
1. When scheduling your post, just change the "Publish as" to Story:
That's it! At the scheduled time, your story (image or video) will be automatically published on Instagram.
Limitations & Media Requirements
It's important to understand what some of the limitations are for scheduling FB stories, and having insights into the media requirements will help you be set up for success!

Facebook Story Posting is only available for Facebook

Pages

.

Stickers

, sounds, and other Facebook effects are

not

available for Stories scheduled for auto-publish. If you use notification publishing, you can add these effects using Facebook's tools before posting your Story.
Video Stories:

File type: .mp4
Video length must be between 3 - 90 seconds
Aspect ratio required: 9:16
Dimensions: 1080 x 1920 pixels (recommended), but the minimum is 540 x 960 pixels
Frame rate: 24 to 60 frames per second

Photo stories:

File type:

.jpeg, .bmp, .png, .gif, .tiff

File size:

Files can not exceed 4MB. For .png files, we recommend not exceeding 1MB or the image may appear pixelated.

You'll find the full list of video specs & story limitations on Meta's documentation here.
Scheduling Facebook Stories within Vista Social
At times, you may want to schedule your Story in Vista Social as a notification reminder instead. Since Facebook's API (how tools like Vista Social communicate with their network) doesn't provide a way to attach stickers when scheduling, you may have posts that will require some sticker work on your phone.
For these posts, you can set it up so a mobile phone (yours or any of your team members) will receive a notification that it is time to publish on Facebook. The user then accepts the notifications and shares the post to Instagram.
Enter Notification reminders:
Setting up Notifications/Reminders
You can plan and schedule your Facebook Stories in Vista Social, specify the mobile device (yours or any of your team members) that will receive a mobile notification that it is time to publish on Facebook. The user then accepts the notification and shares the post on Facebook.
Step 1. Download the Vista Social application
Step 2: Open the app and allow notifications.
IMPORTANT: Allowing notifications is vital for you to be able to receive notifications.
Step 3: Log in with your Vista Social account
If you don't have an account please create one here. If you are a member of a team that uses Vista Social, please contact your account admin.
Step 4: Schedule your first Facebook Story
Now, back on the web version of Vista Social, when scheduling a post, choose a Facebook profile.
After crafting your post, you will find an option to change the type of the post to a story, switch it to "Send reminder notification" and be able to pick your "device" (the phone from which you have logged in) from a list.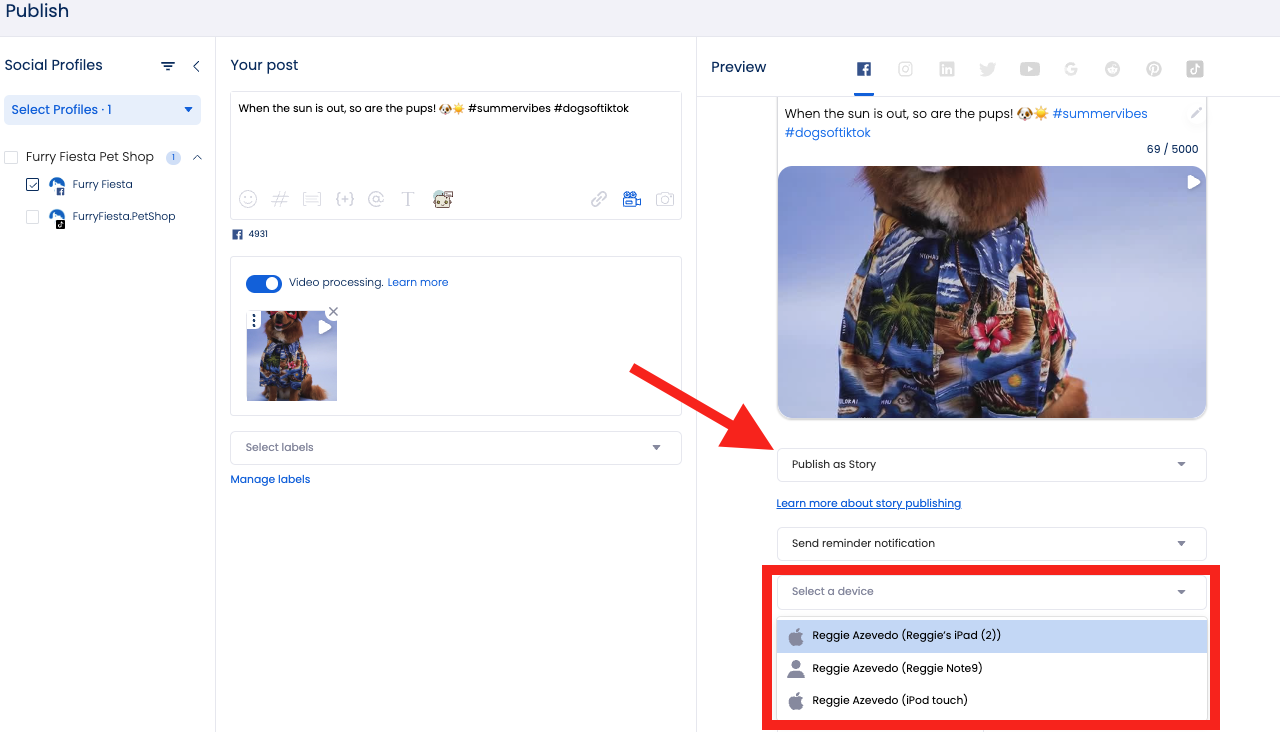 If your device does not show up, please be sure to log in to the mobile app on the phone first and refresh the web screen.
Click Next and schedule your post!
Step 5: Open the notification and share on Facebook
You will receive a notification on your phone, like this:

When you click on it, it'll show you the caption and media for the post. Click on"Continue to Facebook", making sure to grant permission to access your phone's photos.
The caption will have been automatically copied to your clipboard, so you can paste it from here.
(Optional) Step 6: Mark your post as published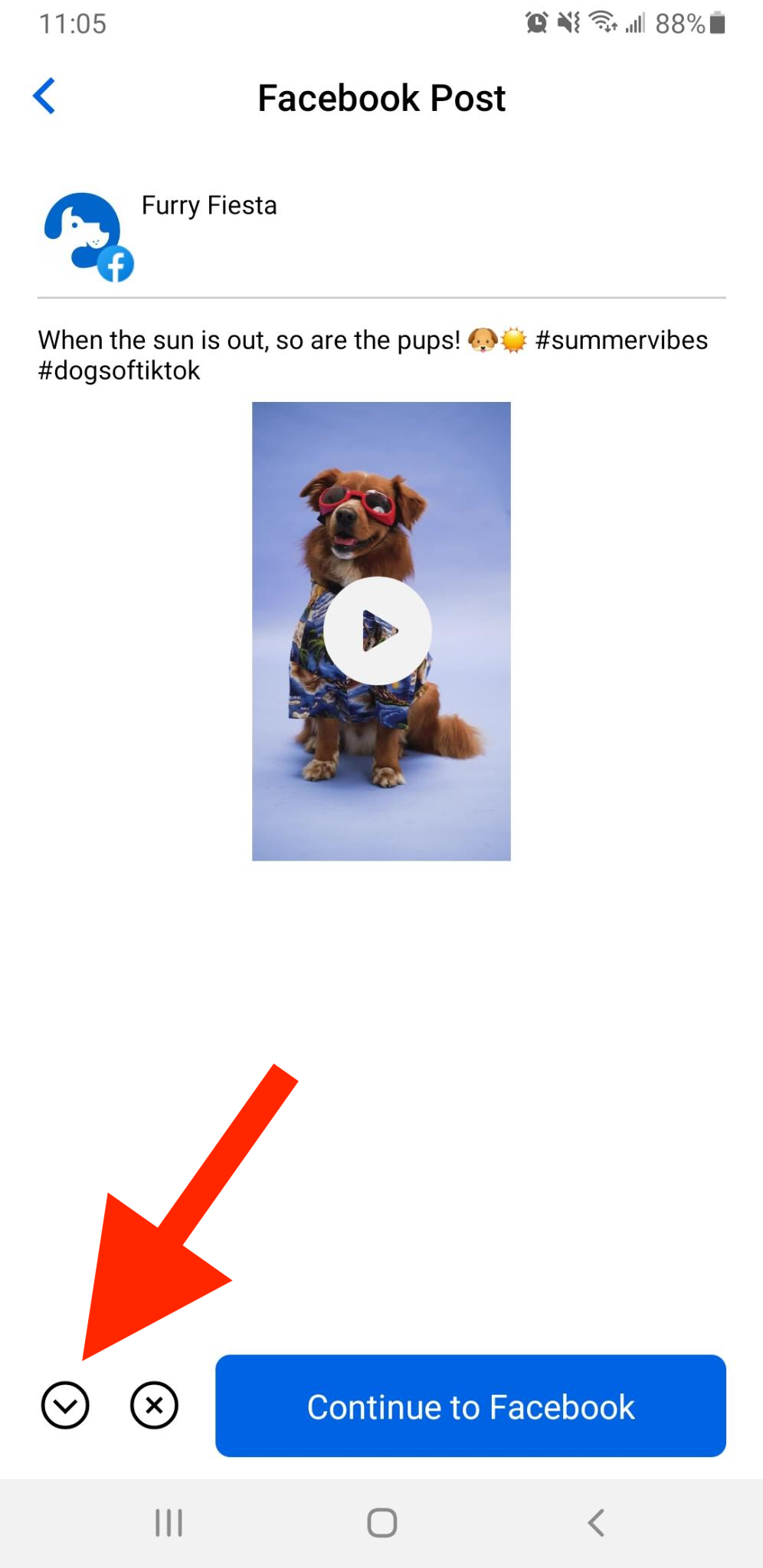 Simply click on the check mark to acknowledge the post (mark it posted) or the x mark to reject it (you don't want to publish it). This will help better track this post on your calendar:
If you have any questions or run into any issues, please contact support!
Related Reading:
Connecting your TikTok Profile to Vista Social
How do I schedule posts for multiple social channels at the same time?
----
Sign-up now and enjoy Vista Social's fully featured free plan as you get started, or try our full toolkit priced to make social media management affordable!