In this article, we'll go over how you can schedule your Instagram Stories with Vista Social
| | |
| --- | --- |
| | Note: Due to limitations by Meta, only Business Profiles are able to auto-post stories via tools like Vista Social. If you have a Creator or Personal profile, considering switching over. |
Auto Posting Instagram Stories with Vista Social
With Instagram's recent updates, Vista Social can now officially offer Auto Posting for Instagram Stories.
No more messing with notification reminders - you just schedule a post and it gets published automatically!
Video Guide
1. When scheduling your post, just change the "Publish as" to Story: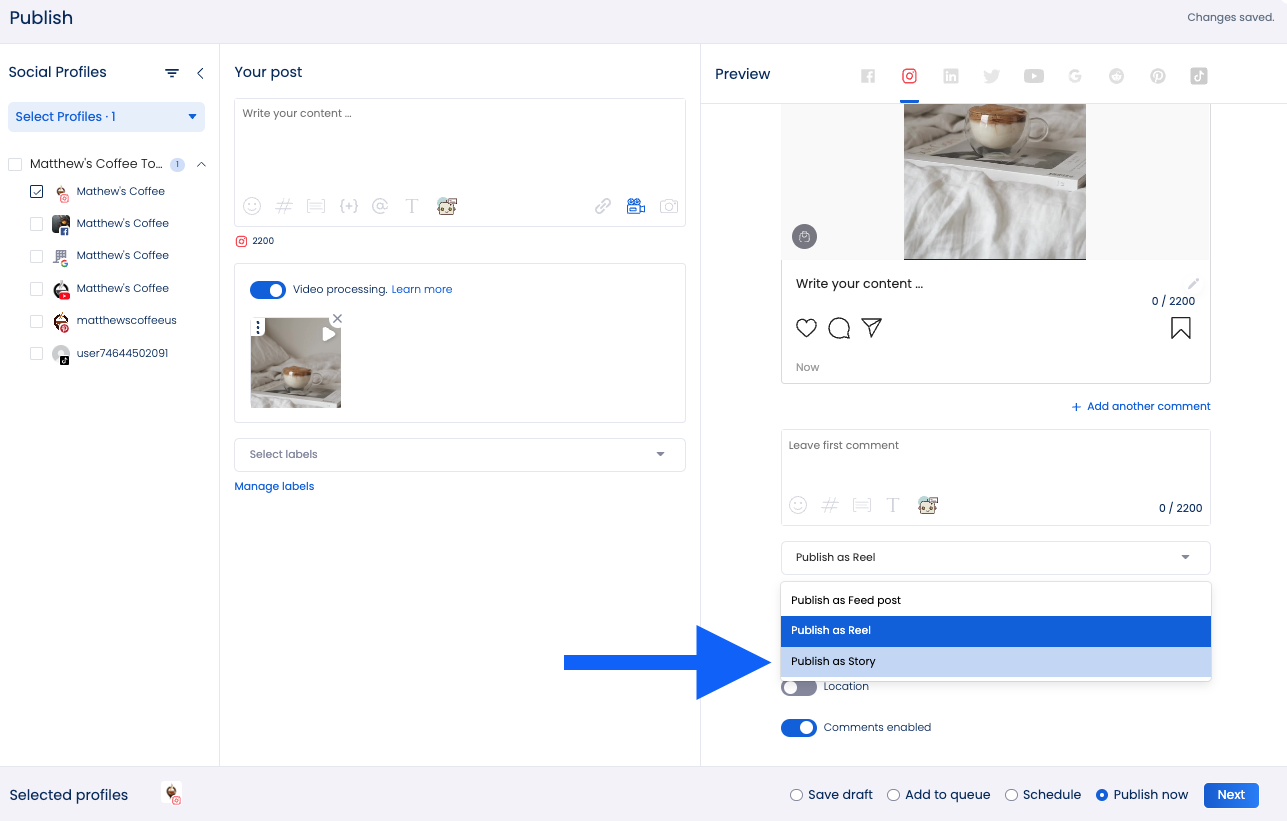 2. If your Instagram profile is a Business Profile, you'll be able to use the details Auto publish option: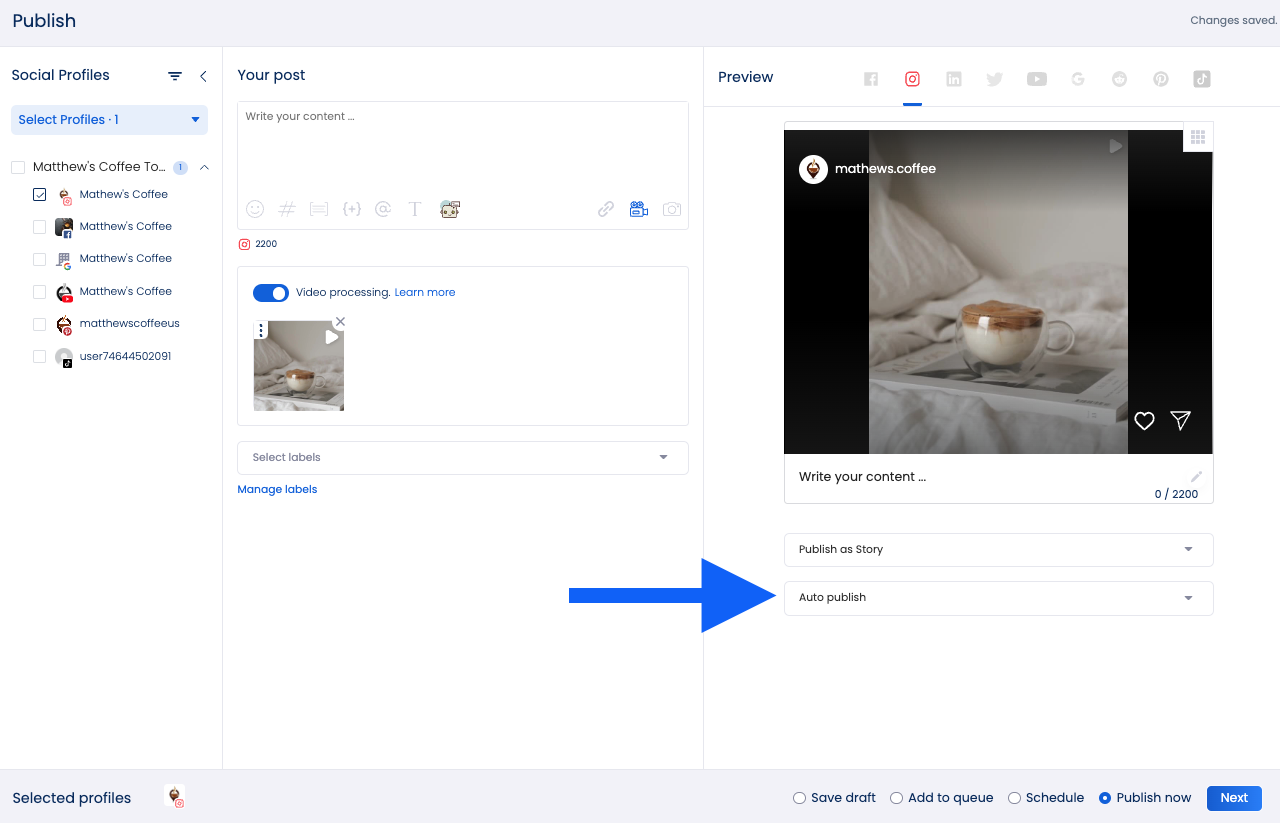 That's it! At the scheduled time, your story (image or video) will be automatically published on Instagram.
Scheduling with Notifications/Reminders
At times, you may want to schedule your Story in Vista Social as a notification reminder instead. Since Instagram's API (how tools like Vista Social communicates with their network) doesn't provide a way to attach stickers when scheduling, you may have posts that will require some sticker work on your phone.
For these posts, you can set it up so a mobile phone(yours of any of your team members) will receive a notification that it is time to publish on Instagram. The user then accepts the notifications and shares the post to Instagram.
Step 1. Install Vista Social the App
Step 2: Run the app and allow notifications.
IMPORTANT: Allowing notifications is vital for you to be able to receive notifications.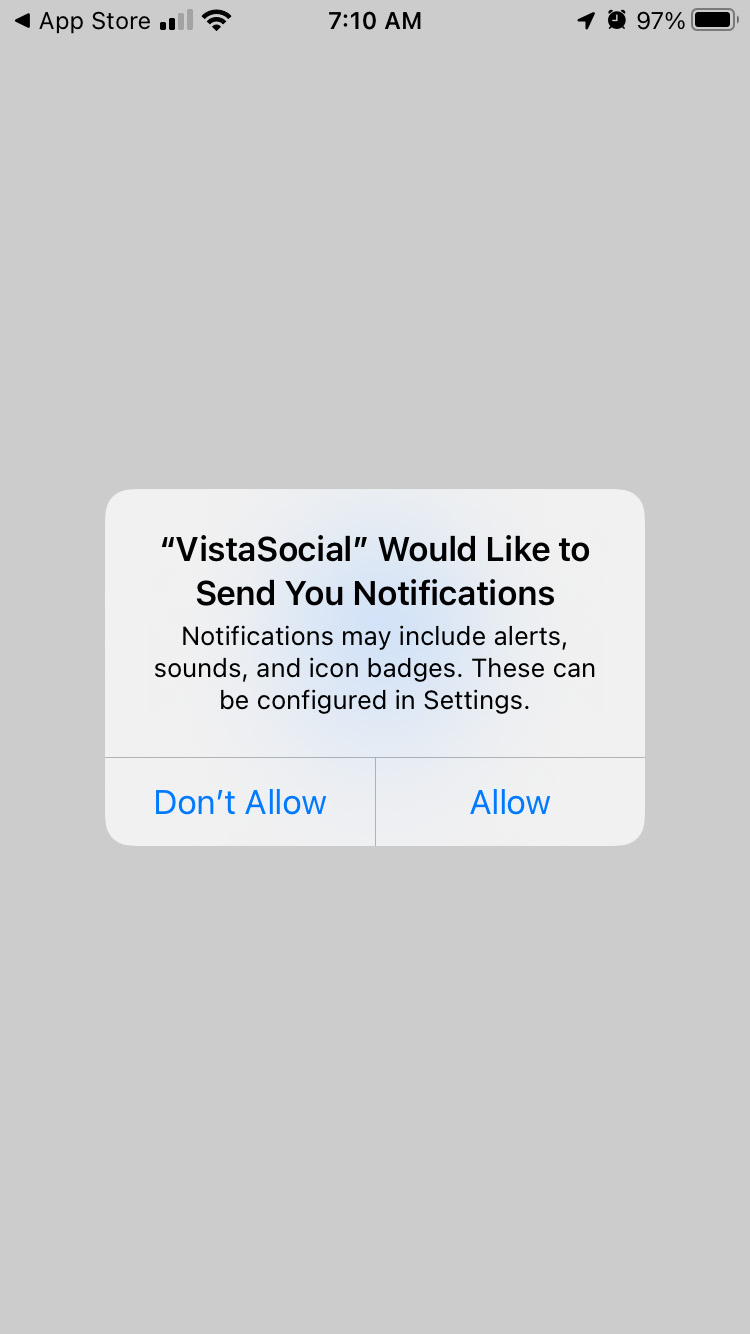 Step 3: You will then be asked to login. Please use your Vista Social credentials.
If you don't have an account please create one here. If you are member of a team that uses Vista Social, please contact your account admin.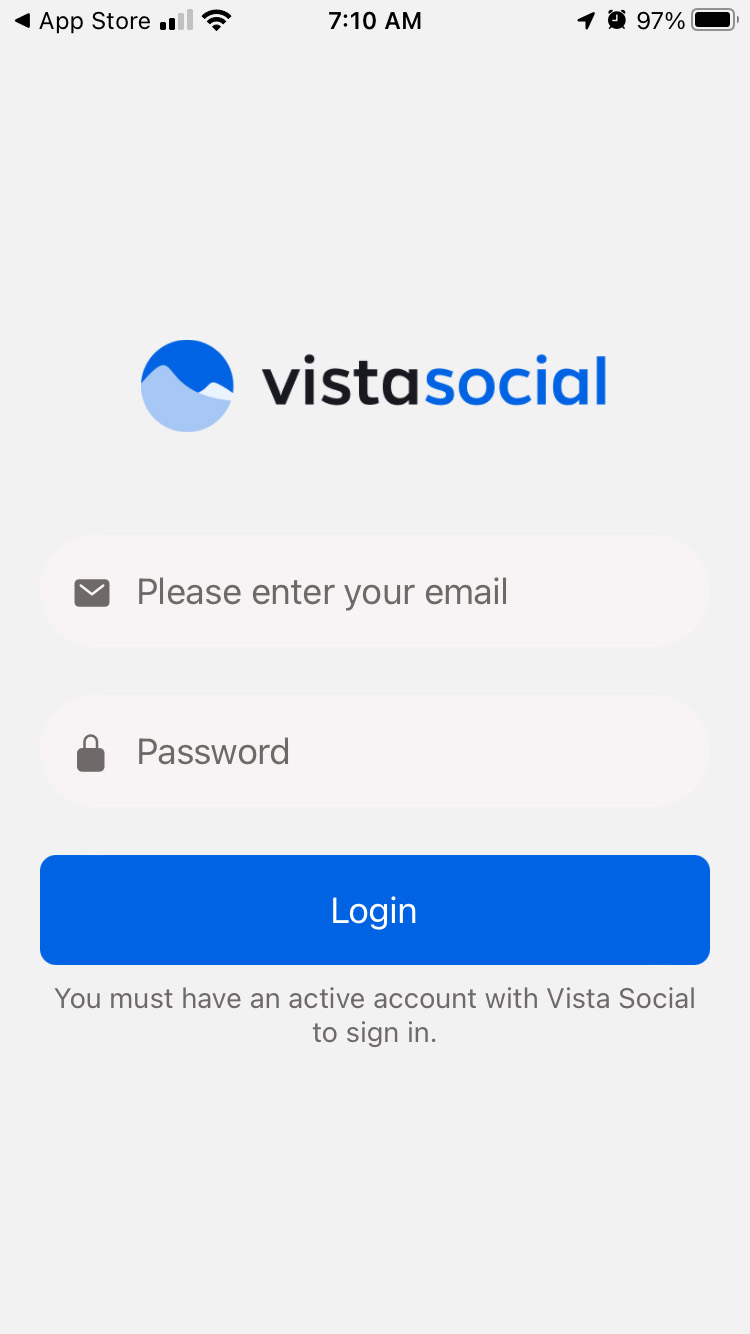 Step 4: Notifications
When you login to the app for the first time, you will not yet have any notifications. This is expected. Once you login and schedule stories, they will show up as notifications. See next step.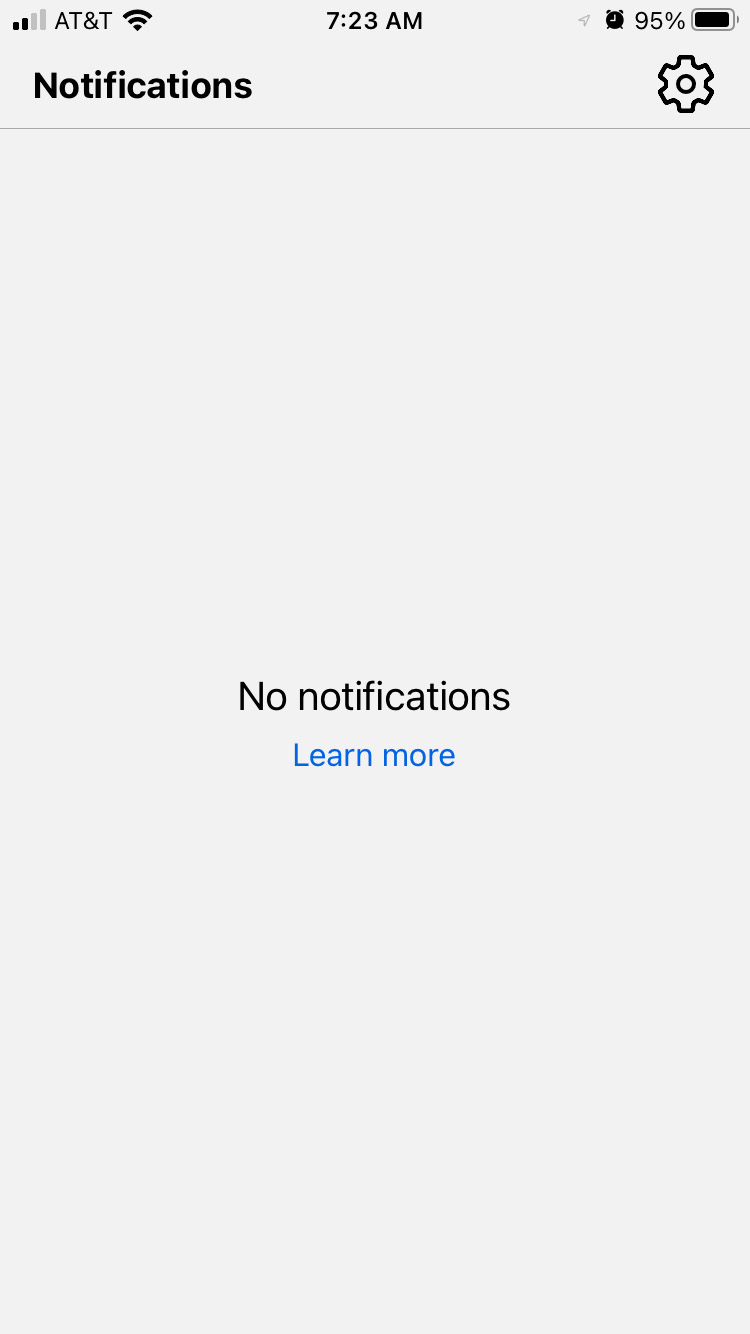 Step 4: Schedule your first Instagram Story
Now, head over the the https://vistasocial.com and login. Click on Compose, pick an Instagram profile and design your Instagram post. You will now find an option to change the type of the post to a story and be able to pick your "device" (the phone from which you have logged in) from a list. If your device does not show up, please be sure to login the app on the phone first and refresh the web screen.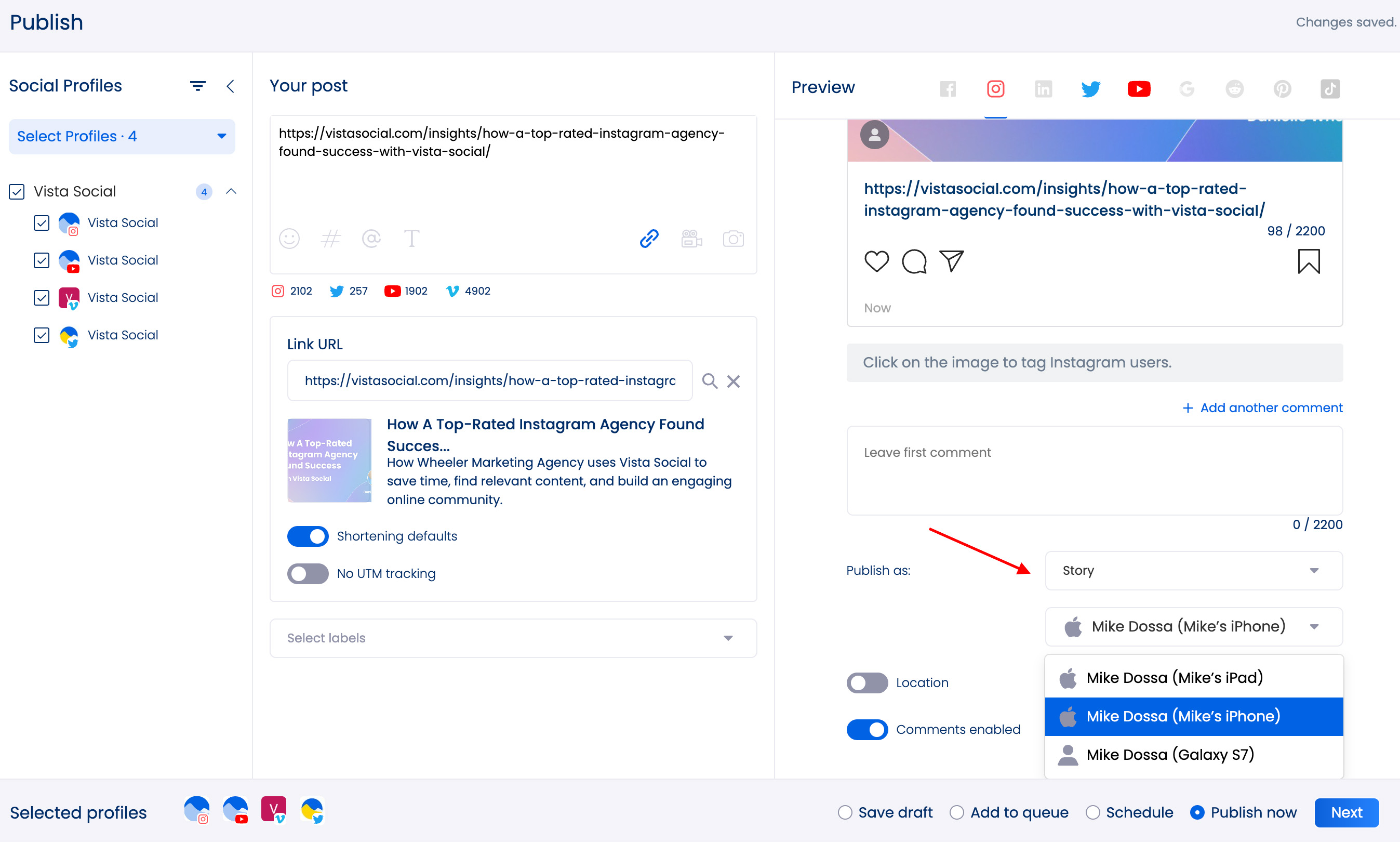 Click Next and schedule your post!
Step 5: Receive notification on your phone
If Vista Social is not open, you will receive a notification popup at the top of your phone that looks like this, just click on it

If Vista Social is open, your notification list will automatically reload and you will see a notification that looks like this: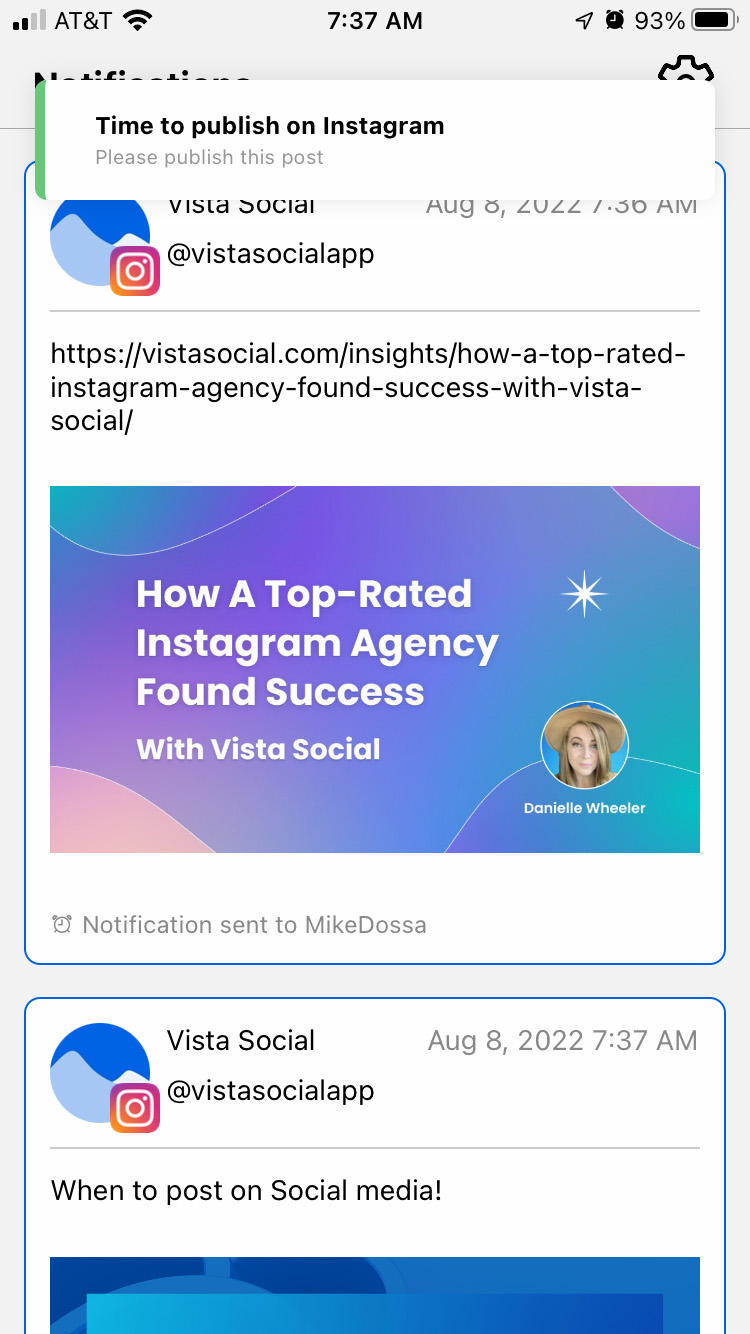 Step 5: Open notification and share to Instagram
When notification opens simply click on "Continue to Instagram", be sure to grant permission to access your phone's photos



Step 6: Mark your post as published
This step is optional but it helps you better track your posts.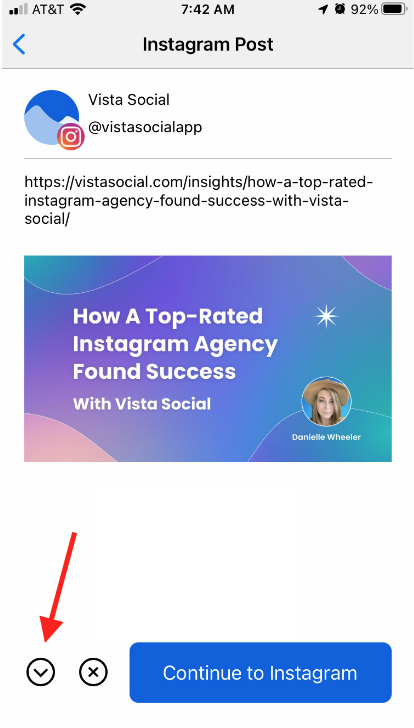 Simply click on the check mark to acknowledge the post (mark it posted) or the x mark to reject it (you don't want to publish it). This will help better track this post on your calendar:

If you have any questions or run into any issues, please contact support!