Sometimes, users may lose access to their social profiles and need to reconnect them. When a social profile is disconnected, it means that Vista Social is unable to retrieve information from that social media network. This impacts your ability to publish and schedule posts, reply to messages, generate reports, and overall access to your data.
It's always a good idea to reconnect your social profiles as soon as possible if you lose access to it. In this article, we'll delve into the reasons why profiles disconnect and provide a fix!
Why do profiles disconnect?
There are several reasons why profiles can disconnect.
Access token expirations: Vista Social, like many other social media management tools, uses access tokens provided by social networks to connect to users' social accounts. These access tokens have expiration dates, and when they expire or become invalid, users need to reconnect their social accounts to Vista Social to generate a new token. This is a security measure implemented by social networks to protect user accounts and data.
Security measures imposed by social networks: Social networks have their own security algorithms and policies in place to keep users' accounts and data secure. When certain actions are identified on an account (e.g. unusual location logins, multiple failed login attempts, unusual posting patterns, or suspicious changes to account information), social networks may force the account's token to expire, causing the account to disconnect from third-party tools like Vista Social. These security measures are often more stringent for third-party tools than what users may experience when using the social network directly.
Human error: Human error can also be a common reason for profile disconnections on social media platforms. Accidental app removals, password changes, or accidental account deletions can result in unintended disconnections. It's important for users to be cautious and double-check their actions to avoid such unintended disconnections.
Account inactivity: Another reason for profile disconnections can be prolonged account inactivity. Some social media platforms may have policies where accounts that remain inactive for an extended period of time may be deactivated or disconnected from the platform. For example, Twitter may deactivate accounts that are inactive for 6 months or more. Users should be aware of the platform's account inactivity policies and log in periodically to keep their accounts active.
Changes in platform features or settings: Social media platforms are constantly evolving, and changes in platform features or settings can sometimes result in profile disconnections. For example, updates to the platform's privacy settings or changes in authentication methods may require users to re-authenticate or reconnect their profiles, leading to disconnections if not done promptly.
No worries though! Vista Social sends alerts and emails to users when profile disconnections occur. If this happens, you'll see a caution sign on your profile selector and it will tell you the specific issue once you hover over it.
You'll also see it on your Alerts tab on your dashboard.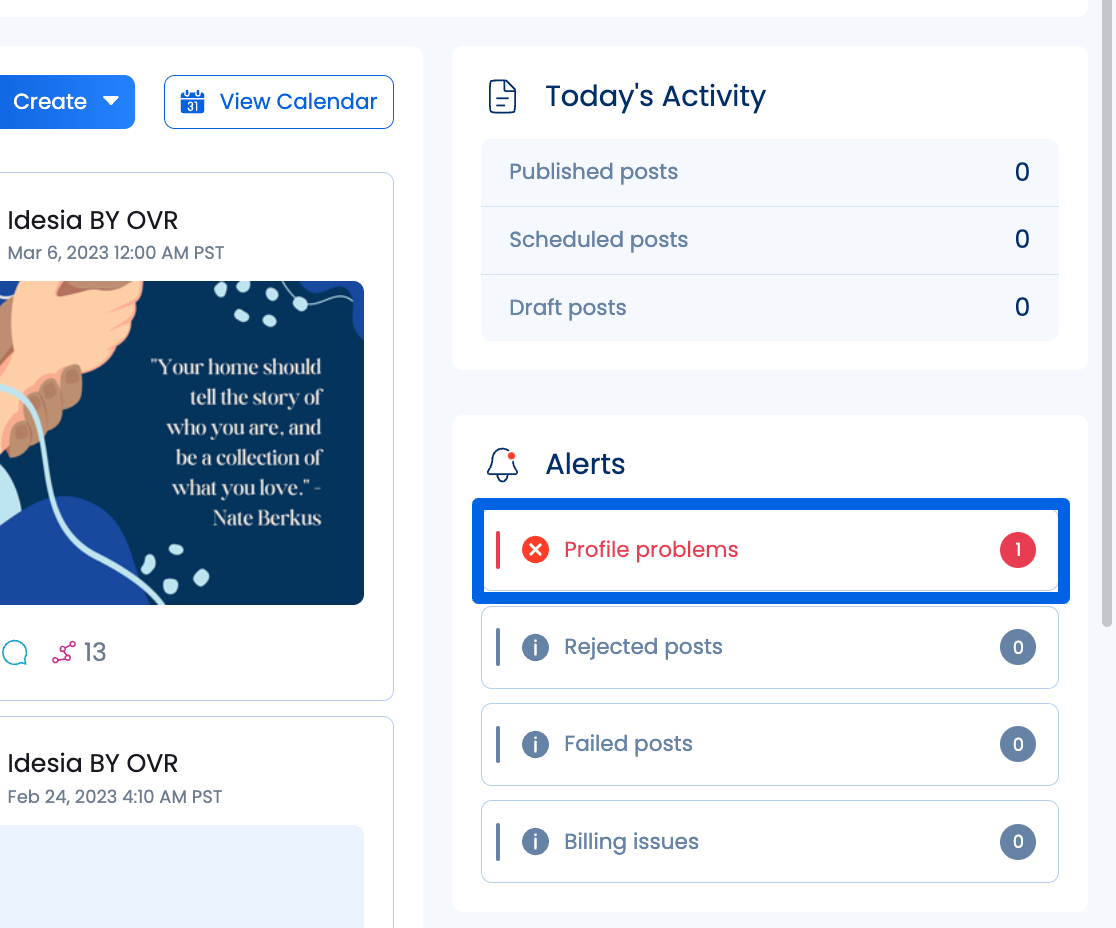 Note: When disconnections happen, you don't need to remove your profile in order to reconnect it. Just follow the guide below to get it up and running again!
How to reconnect profiles
1. Go to Settings > Connected Profiles
2. The status of disconnected profiles will show as Blocked.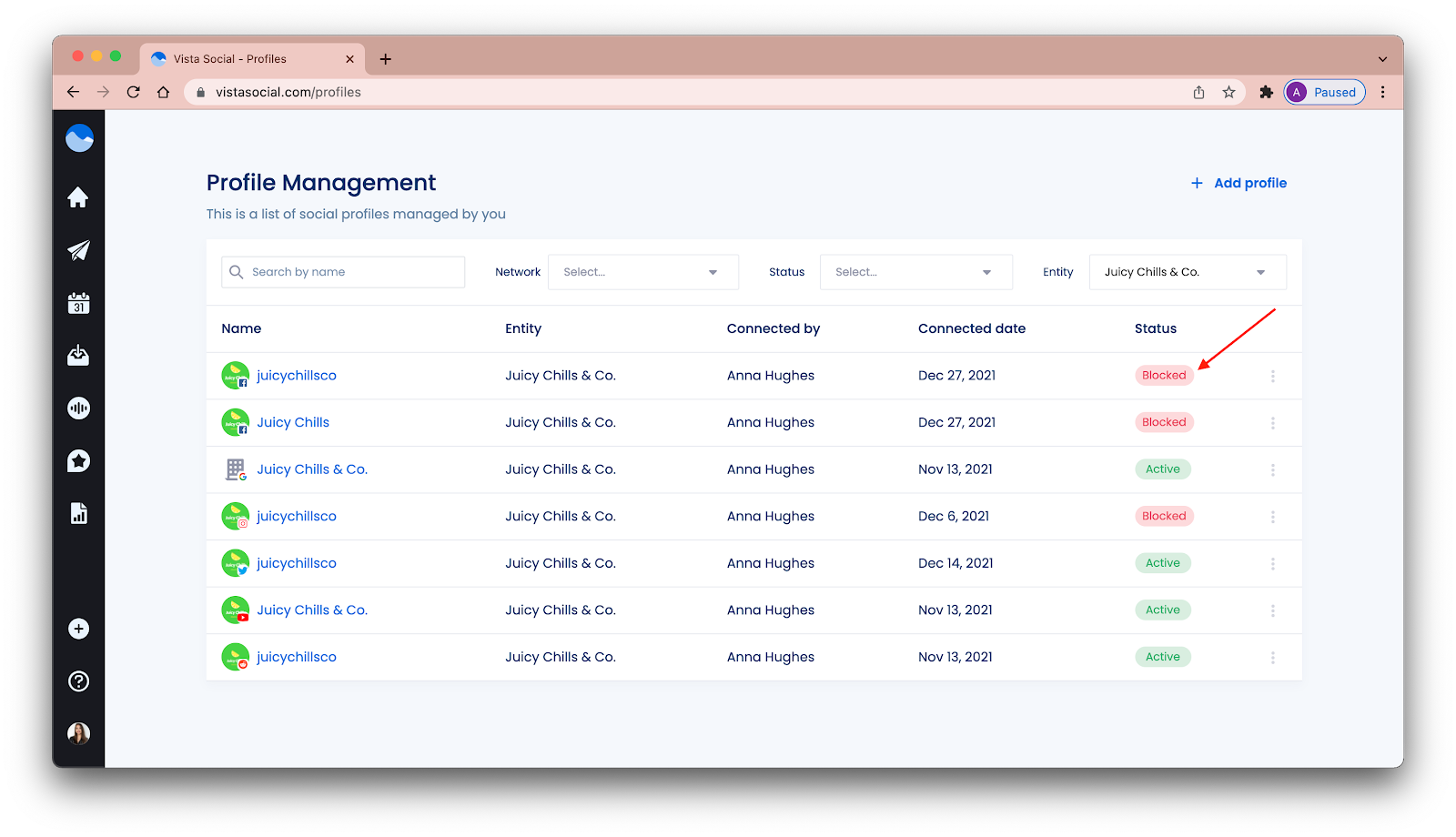 3. To reconnect the profile, click + Add profile at the upper right-hand of the page.
4. Select the network of the profile you want to reconnect.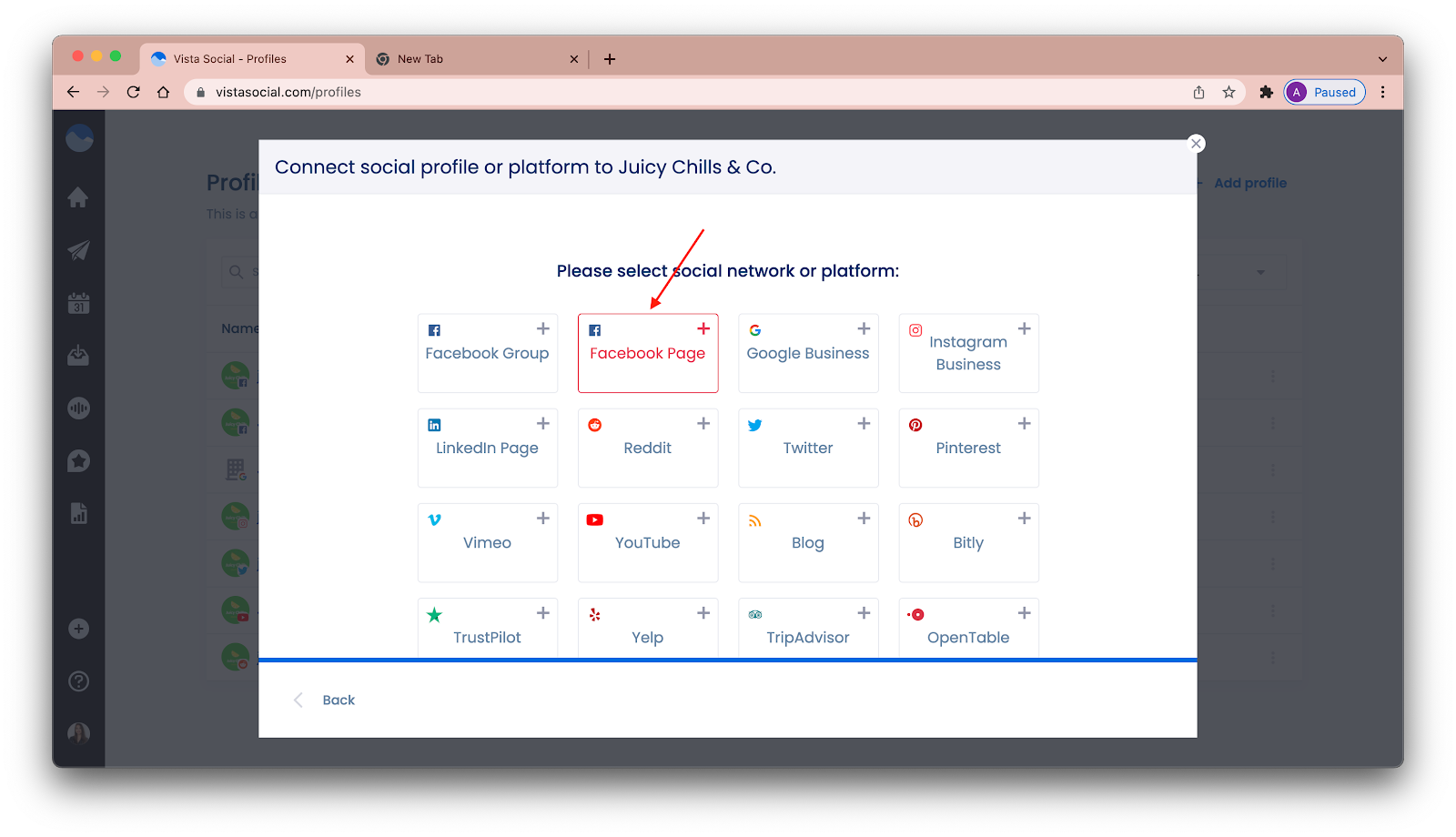 5. Follow the prompts to reauthorize the profile. Make sure NOT to make any modifications to the list of permissions otherwise, it will cause issues with either publishing or reporting.
6. Once you are done the profile status should now show as Active under Profile Management.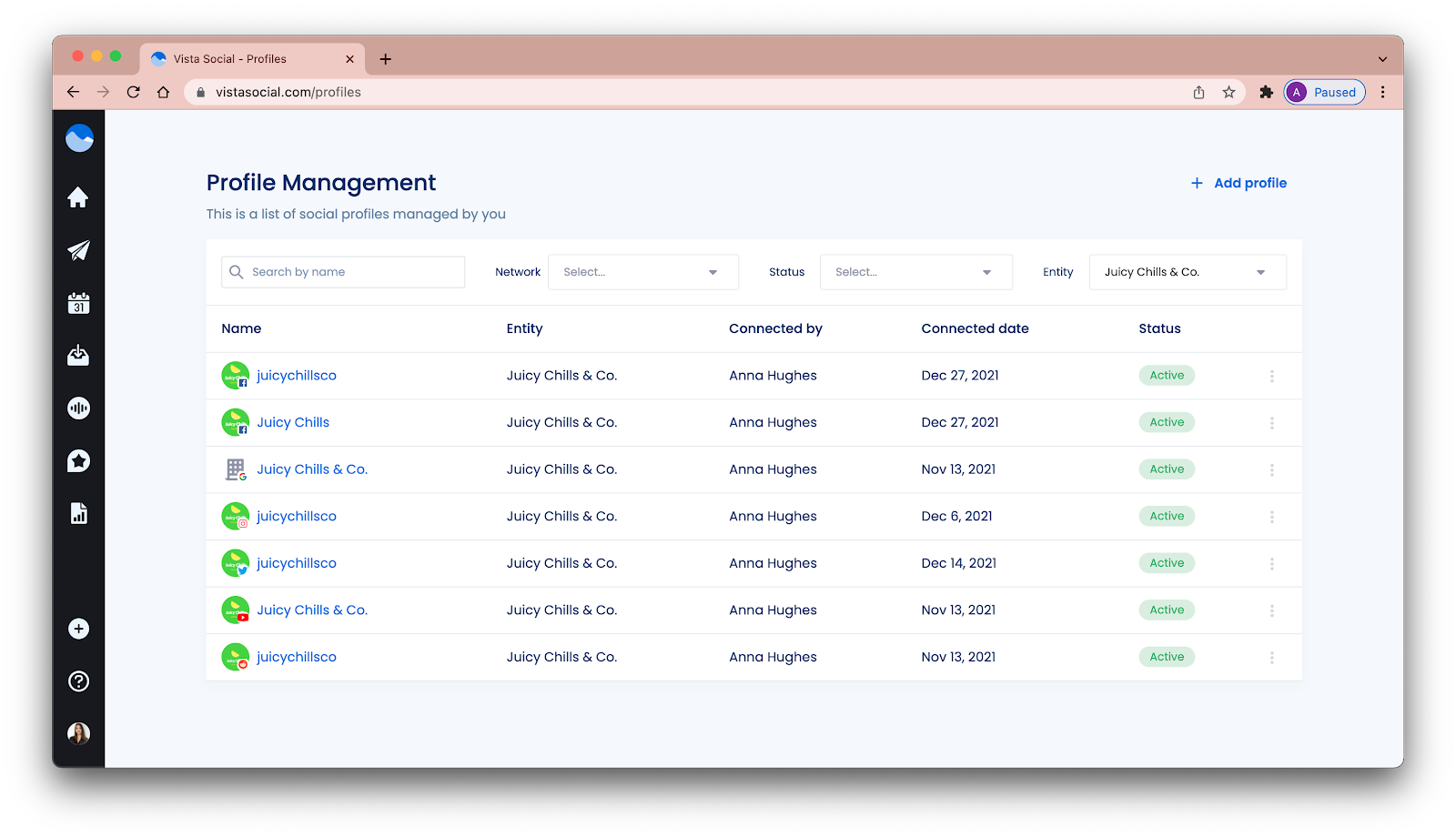 If for any reason, you wanted to disconnect your social profiles, here's a way to do it:
How to disconnect profiles:
Go to Settings > Connected Profiles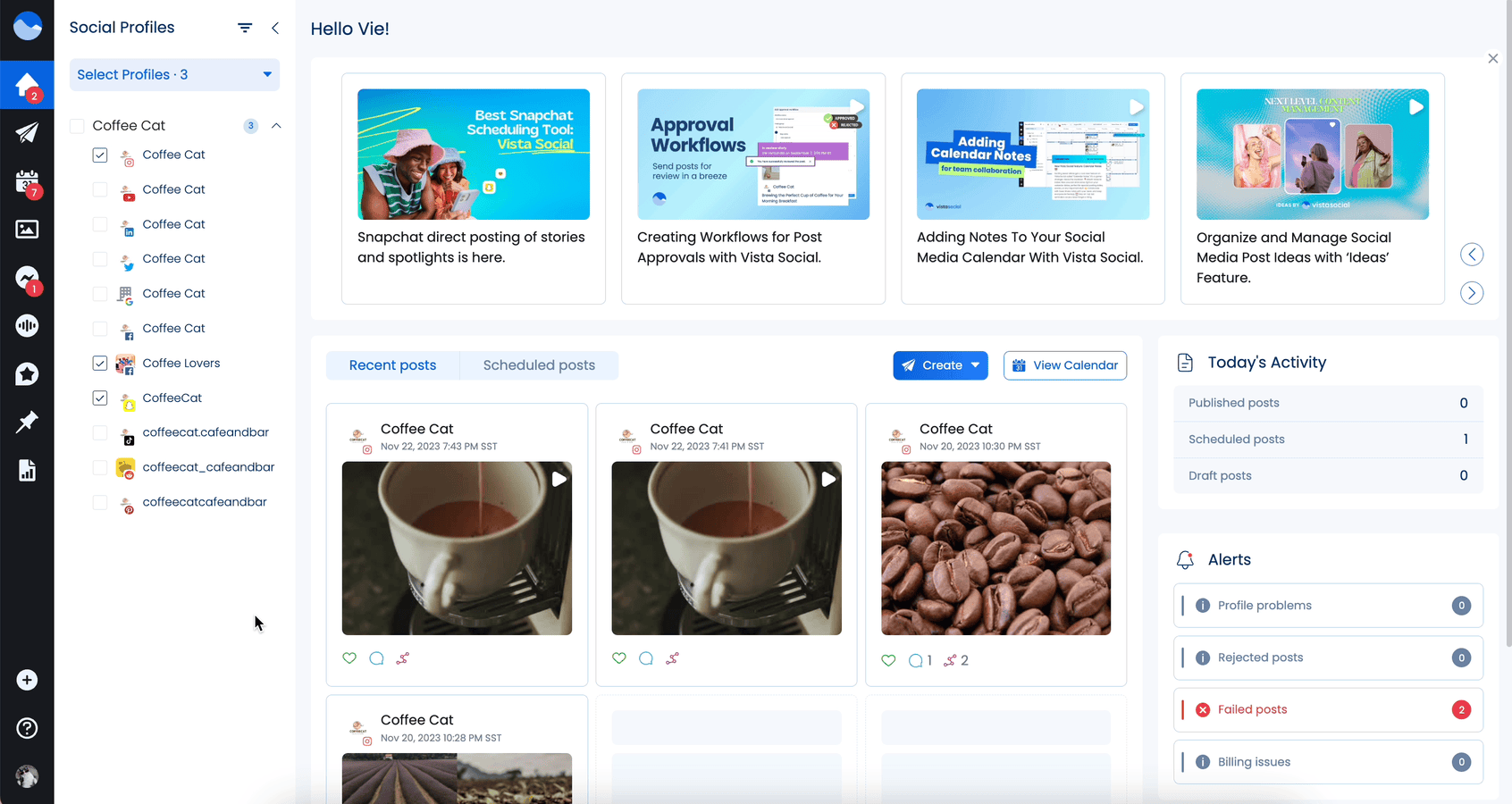 Find the profile that you like to disconnect. If you have a lot of profiles connected you may filter the list by network, status, profile group, or by typing the name in the search field.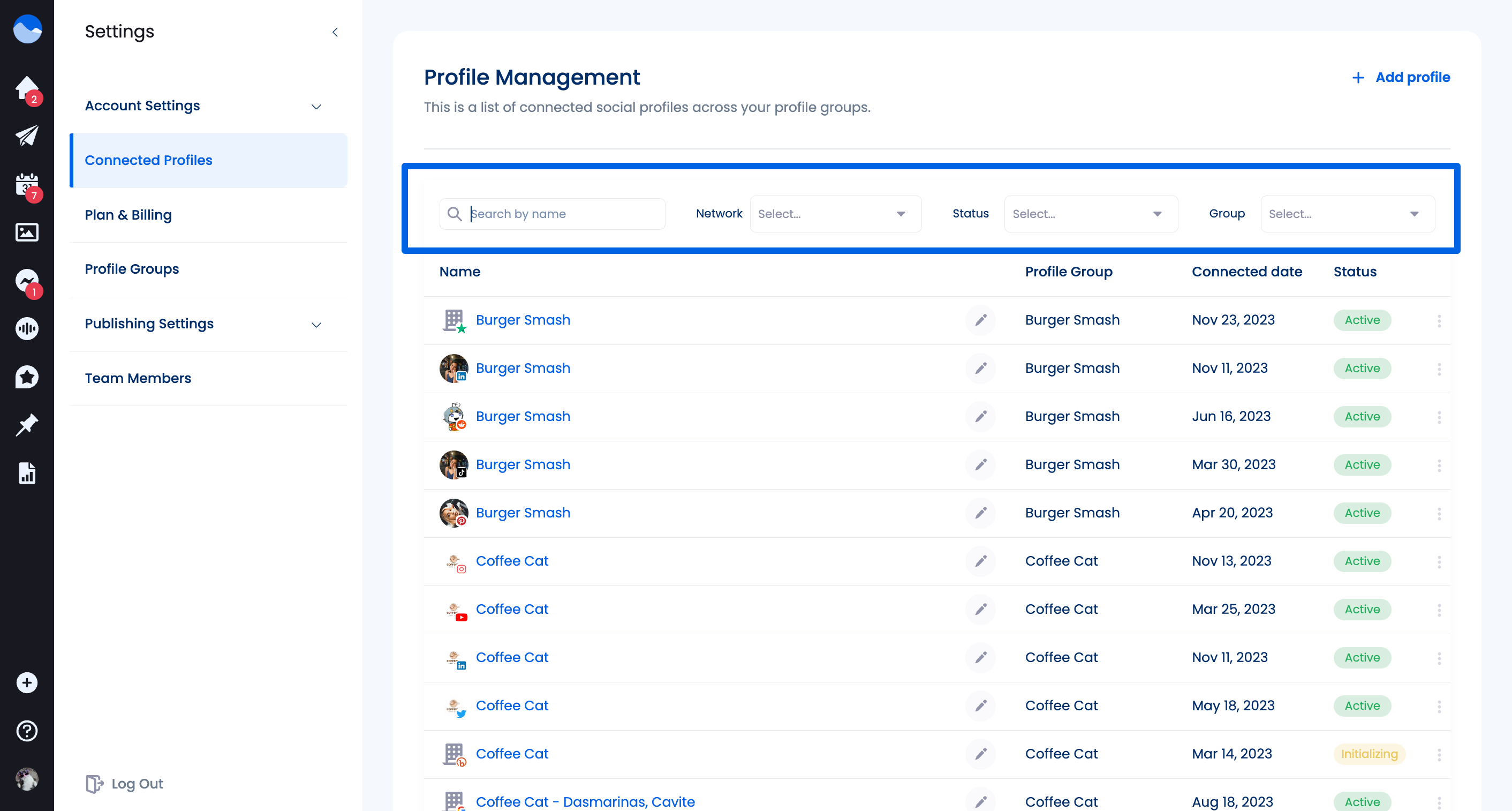 Once you found the profile, click the action menu on the right side of the profile and select Remove profile and the profile will now be completely removed from the account.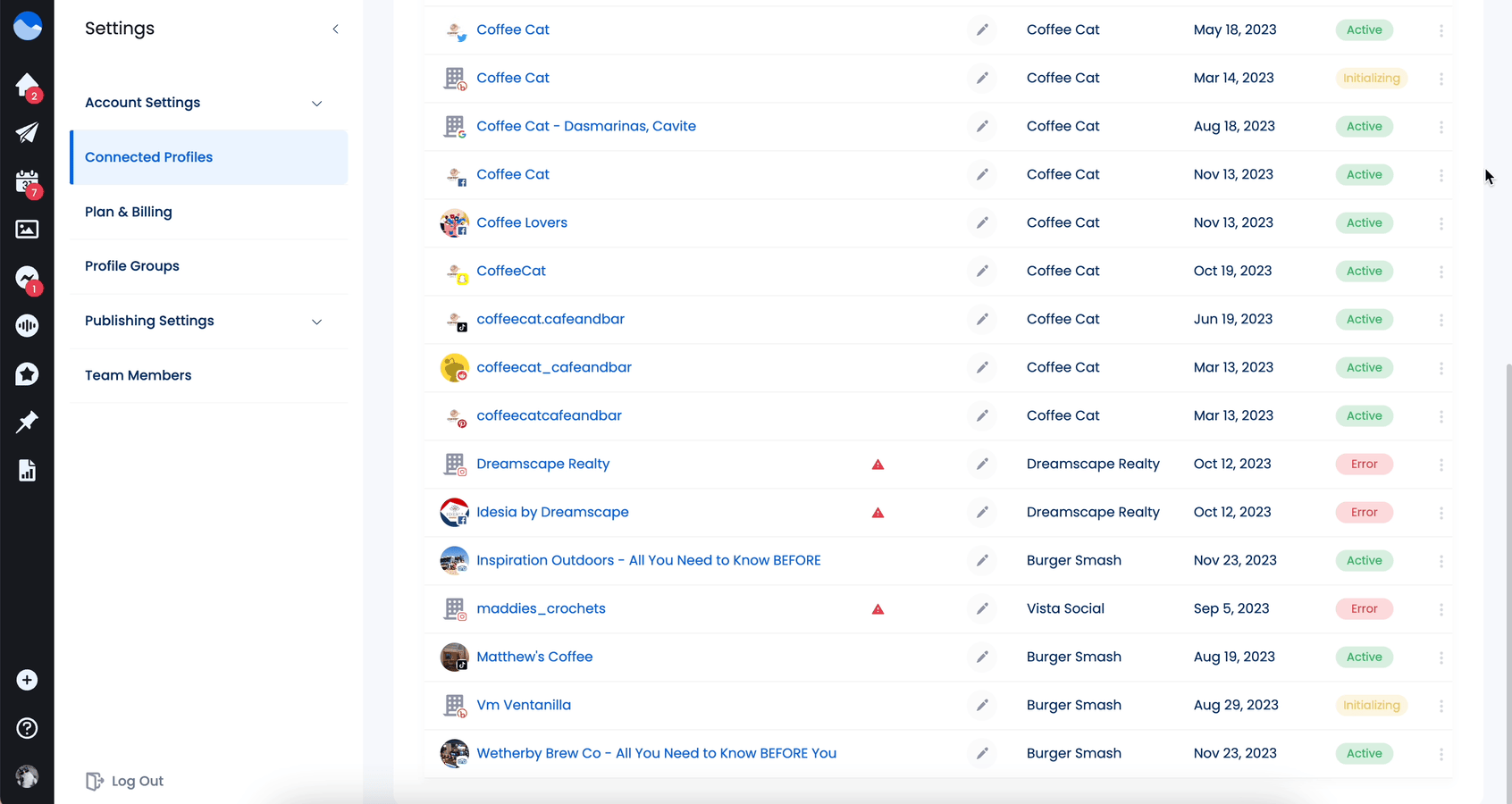 If you only want to disconnect the profile from a specific profile group, click Manage groups and toggle the button off on that profile group.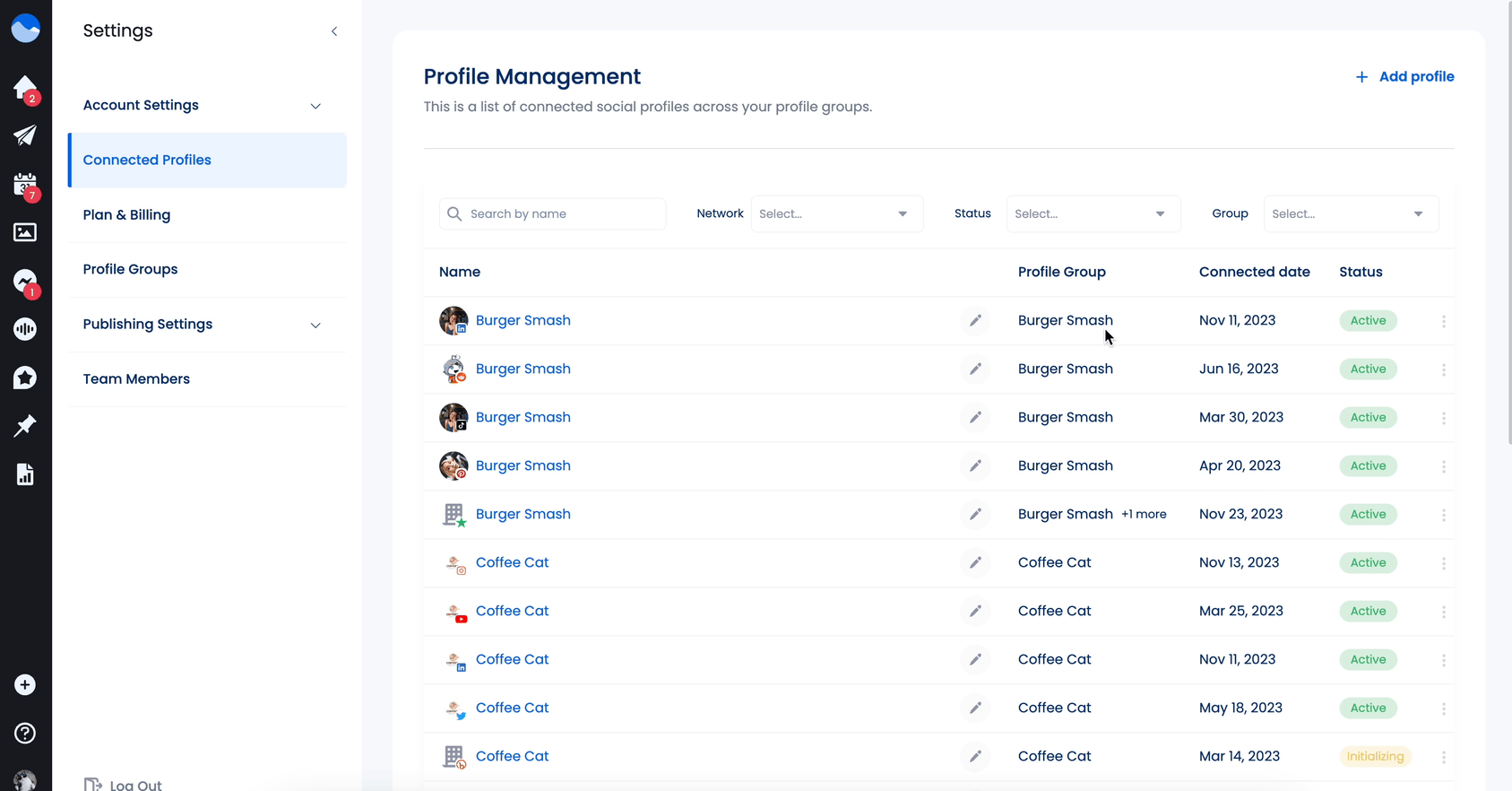 Related Reading:
Profiles Keep Disconnecting? Here's How To Fix It! (Instagram / Facebook)
Connecting your profiles to Vista Social
How to invite users who will be connecting profiles to Vista Social
View your connected profile's details page
----
Sign-up now and enjoy Vista Social's fully featured free plan as you get started, or try our full toolkit priced to make social media management affordable!