Have you ever wondered how you can track the success of your social media campaigns more effectively? It's as simple as adding UTM parameters to your URLs.
Now, don't fret over the technical term – we promise it's much easier than it sounds, and it's a super useful tool that isn't affected by those pesky changes to third-party cookies or the Facebook pixel. Plus, these nifty codes work like a charm with Google Analytics.
Think about the traffic heading to your web properties from your social accounts. If you're keen to understand your audience better (and we know you are), UTM codes should definitely have a reserved spot in your marketing toolkit.
What are UTM parameters?
Let's get down to it. What are these UTM parameters? Well, they are just tiny pieces of code that you add at the end of your links (like the ones you share on your social media posts). These codes carry information about where your link is placed and its purpose, making it easier to track clicks and traffic from a specific post or campaign.
Here's an example link with UTM parameters:
http://www.cfaqsw.ca/menu?utm_source=facebook&utm_medium=paid_social&utm_campaign=summer_sale&utm_term=social_media&utm_content=video_ad"
The UTM parameters are all the bits after the question mark. They may look messy, but we can tidy that up using a URL shortener, as we'll show you later in this post.
There are five types of UTM parameters - and the first three should be in all your UTM tracking links. They're Google Analytics' requirements. The last two are optional but handy for tracking paid campaigns.
1. Campaign source (utm_source)
Indicates the source of the traffic like Facebook, Twitter, your newsletter, etc.
2. Campaign medium (utm_medium)
Tracks the channel type driving the traffic, like organic social, paid social, email, etc.
3. Campaign name (utm_campaign)
Give each of your campaigns a unique name for easy tracking.
4. Campaign term (utm_term)
Optional, but useful for tracking paid keywords or phrases.
5. Campaign content (utm_content)
Allows you to track different ads within a campaign.
It seems like a lot of work, but we wouldn't leave you to do it all by yourself! Let's dive into how to use Vista Social's UTM URL tracking for error-free link tracking.
Creating URL tracking rules with Vista Social
Hop over to Settings > Publishing Settings.
Click Add URL under URL Tracking.
Enter the URL you're looking to track.

When you add this URL to your posts in publisher, the UTM parameters you define automatically get attached to the link.

Time to define your default parameters! These include the campaign name, source, and medium.

Choose your preferred value from the dropdown menu, enter additional info for the value you select, and decide whether to enable or disable the parameter.

(Optional) If you want to define any custom parameters, specify a parameter name (up to 100 characters) and select the value you want to use from the dropdown
Let's look at a quick scenario:
A restaurant wants to measure traffic from the brand's social channels to the site http://cfaqsw.ca/menu to see how many people visit the menu page.
The social media manager needs to create URL Tracking rules to make sure the traffic gets captured.
For utm_source, they'll leave the value as the default Social Network. The source shows as the name of the network the post is published to. For example, the source appears as "Twitter" when publishing to Twitter. If they were publishing to multiple networks, the networks appear in alphabetical order in a list separated by commas.
For utm_medium, they'll leave the value as the default Social Account because any incoming traffic is resulting from posts to one of the social channels.
For utm_campaign, they'll set the parameter to a Custom Value and enter Menu.
Finally, they'll define utm_content

as a

Unique ID

for the value. This means Vista Social generates a unique ID every time the link is used, so any incoming traffic is attributed to specific outgoing messages.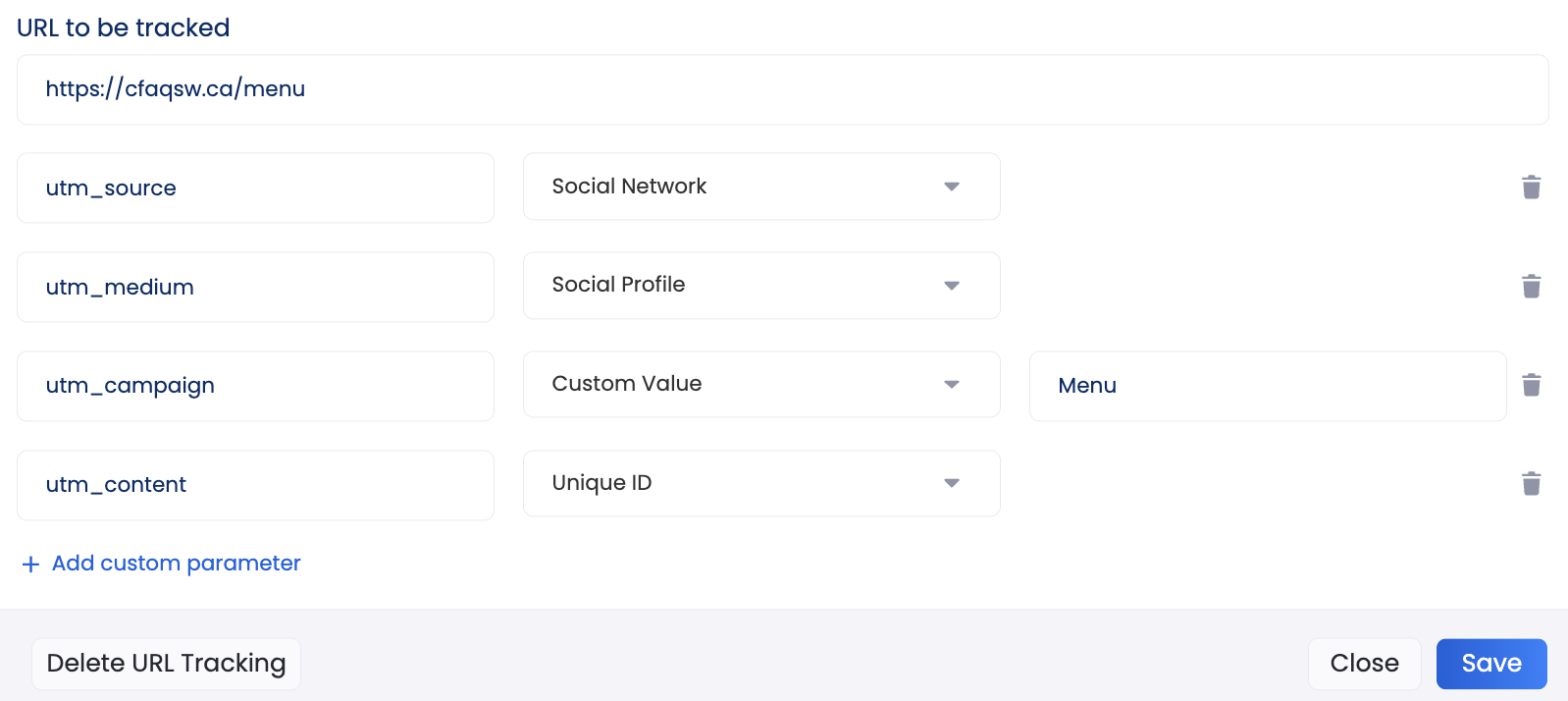 Now whenever the link http://cfaqsw.ca/menu is added to Vista Social publisher, the URL Tracking rules are automatically applied and traffic is captured in Google Analytics.
Google Analytics

To view your URL Tracking data in Google Analytics, navigate to Reporting > Acquisition > Traffic acquisition. Here, you can sort and analyze campaign data by:
Campaign
Source
Medium
Content (Ad Content)
Why spend time manually adding UTM parameters to your links when Vista Social can do the heavy lifting for you? With your Google Analytics dashboard, you can evaluate the performance and ROI of your social campaigns sent from Vista Social.