Notes can help you communicate events or important dates to your team, or even just help remind you of project due dates and milestones. Adding custom notes to your social media calendar is easy to do with Vista Social - this guide will show you how.
🎥 Video Guide
Creating notes on your calendar
You can start by hovering over any specific date and clicking on the note icon, or using the create button on your calendar to click New note
Give your note a unique look by choosing a color gradient - that way it stands out on your calendar!
Then, add your note title and description.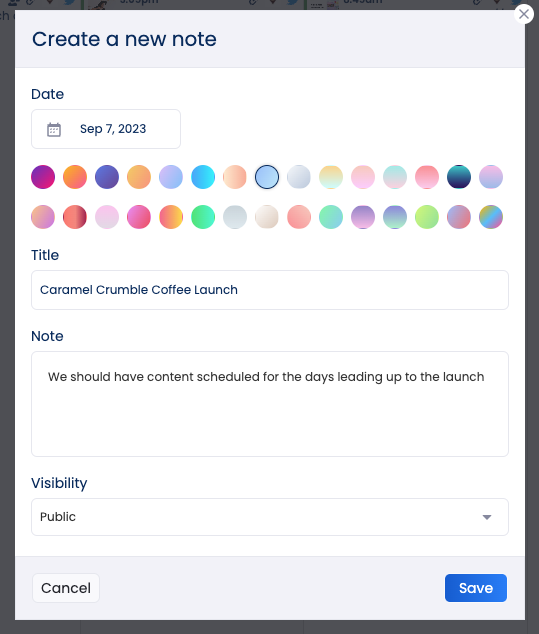 You can also set it's visibility to:
Public (all users with access to this profile group will be able to see this note)
Private (only you can see this note)
You should now see your note on the calendar. By hovering over it, you'll see your note's details at a quick glance.

A few things to note (no pun intended)
Notes are created with specific profile groups in mind, so make sure you have the right one selected before creating your note.
You can edit a note by clicking on it from your calendar
You can delete a note by selecting it from the calendar and clicking Remove
Related Reading:
Creating, managing, and approving draft posts
Connect and import external calendars (Google Calendar, iCal, etc.)
Post Discussions: Comment and Collaborate on Posts
----
Sign-up now and enjoy Vista Social's fully featured free plan as you get started, or try our full toolkit priced to make social media management affordable!