Plan
X Free X Pro

✔️

Pro+
Zapier is a fantastic automation tool! Zapier integrates with more than 400 different web apps, which means most marketers are bound to be able to find at least a few ways to use it to work smarter, not harder.

We are excited to announce the integration of Vista Social with Zapier to offer additional facilities for our users. With the help of this integration, users can now connect Vista Social with thousands of other apps to deliver data from Vista Social to other systems or from other systems into Vista Social.
In this article, we will explore the following:
How to use Zapier with Vista Social
1. Getting Started with Zapier
The first thing to do is to sign up for a Zapier account. Visit the Zapier website and create your own account.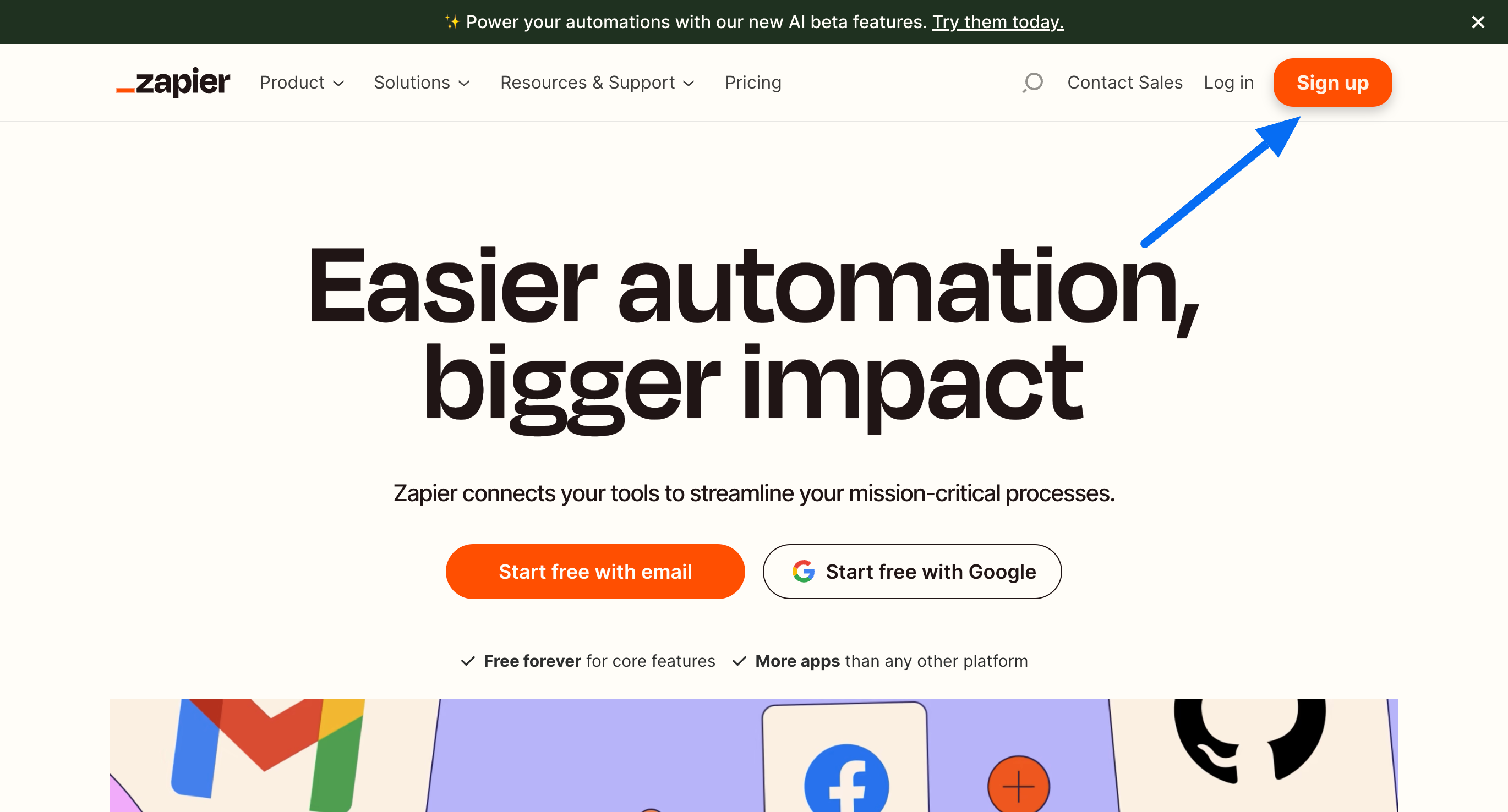 2. Add Vista Social to your apps
Once you're done signing up, add Vista Social to your list of Zapier apps.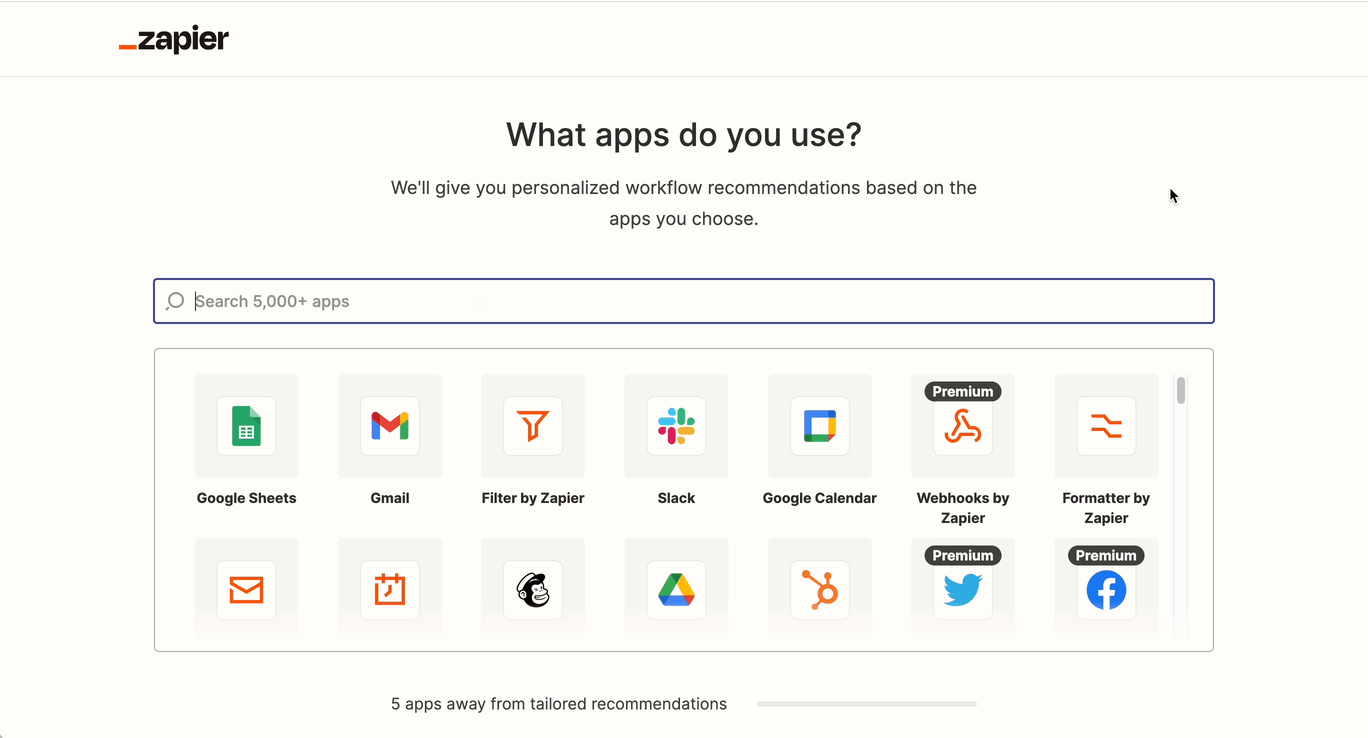 3. Add your Zapier API key when creating your Zap
When you start creating and setting up your first Zap, you'll be asked to sign in to Vista Social to successfully connect to your VS account.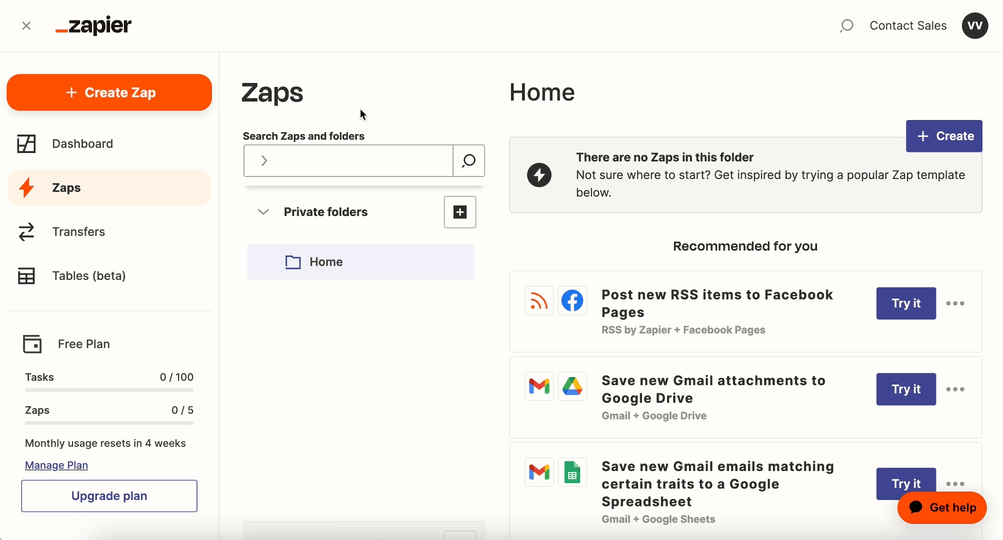 You can find your Zapier API key by going to your Vista Social account. Go to Settings > Account Settings, then scroll down to find the key. Click on the clipboard icon to copy the key.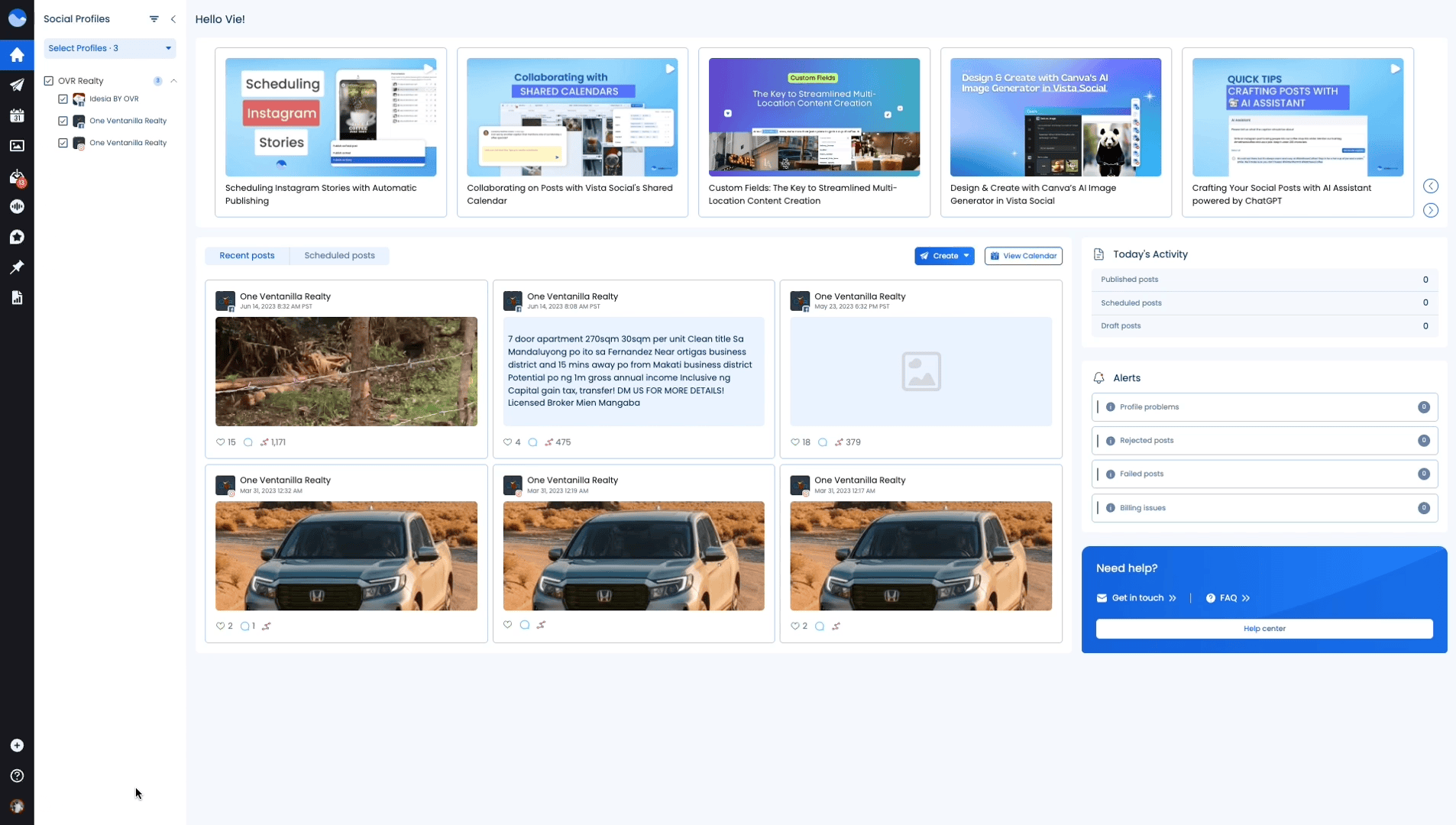 Go back to Zapier and paste your key to continue setting up your Zap.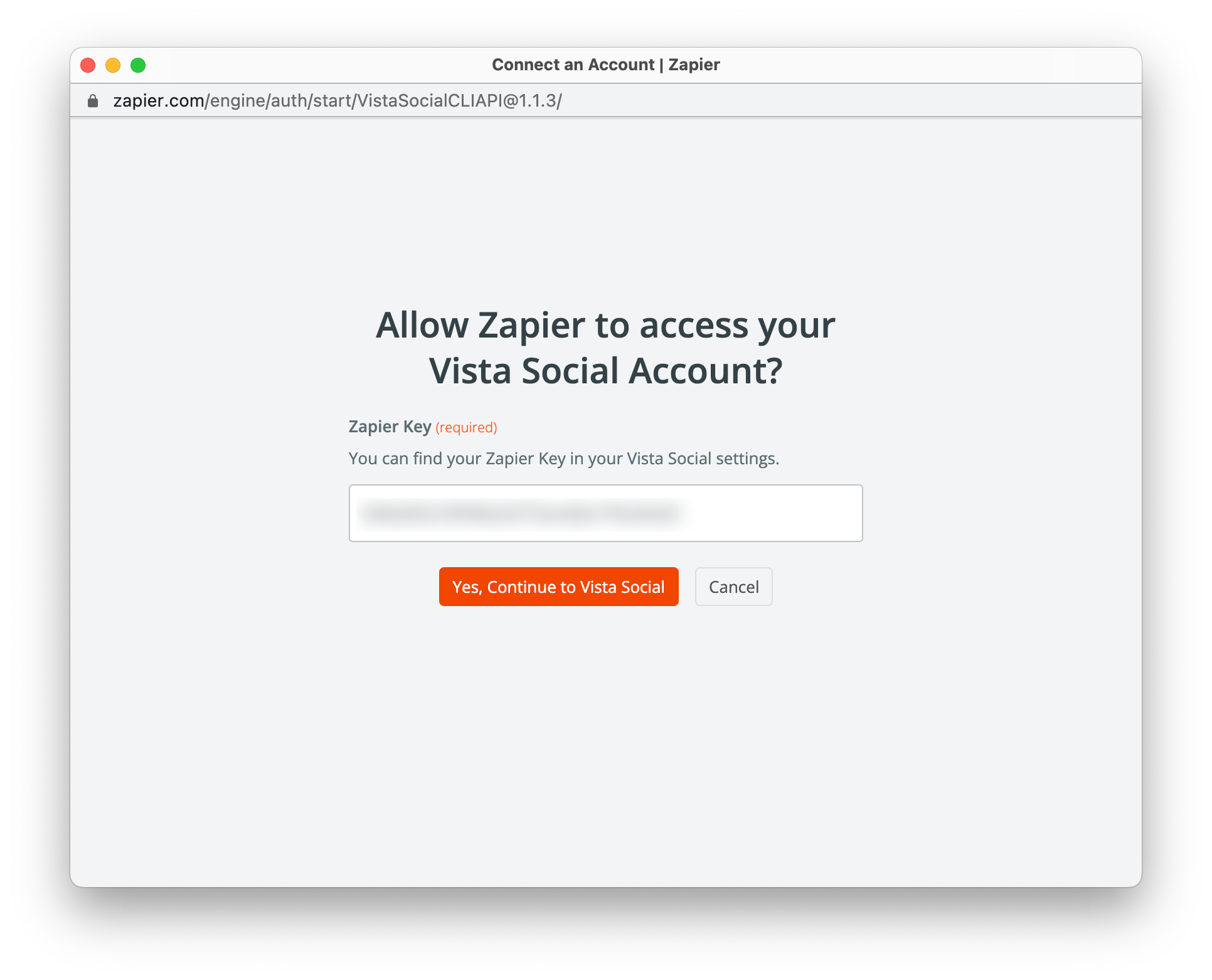 4. Setting up your Trigger and Action for your Zap
Your Trigger and Action will depend upon what you want to achieve with your Zap.
Choose a Trigger app: Select the app that will initiate the workflow or trigger the automation.
Select an Action app: Choose the app where you want the automated action to occur.
Set up the Trigger and Action: Configure the specific trigger and action parameters based on your requirements.
Current features
The current version of Zapier integrations includes the following features:
Automatically schedule new content by feeding data into your Vista Social from another app.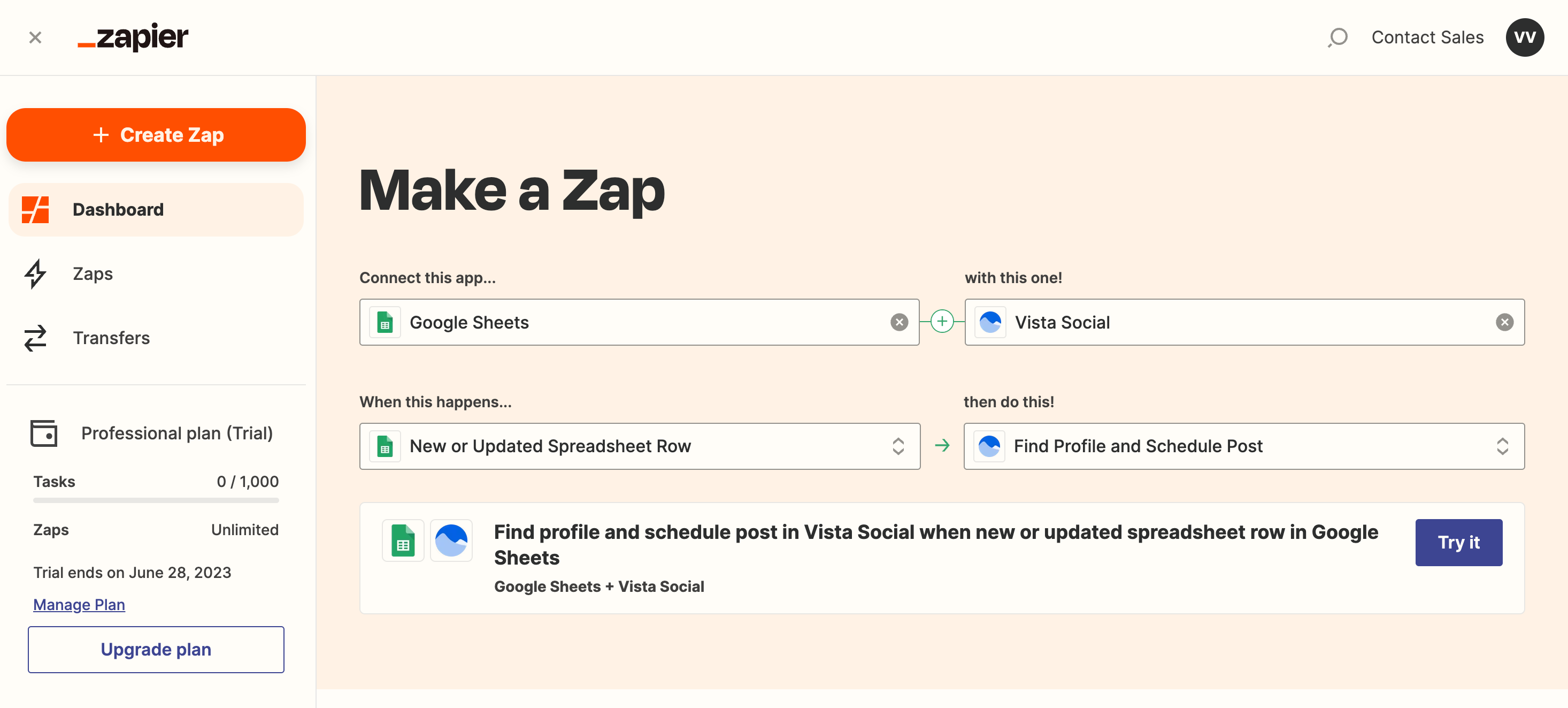 Deliver a post notification to a system of your choice every time

The post is scheduled
The post is published
The post fails to publish
The post requires your approval
The post you created was rejected by a reviewer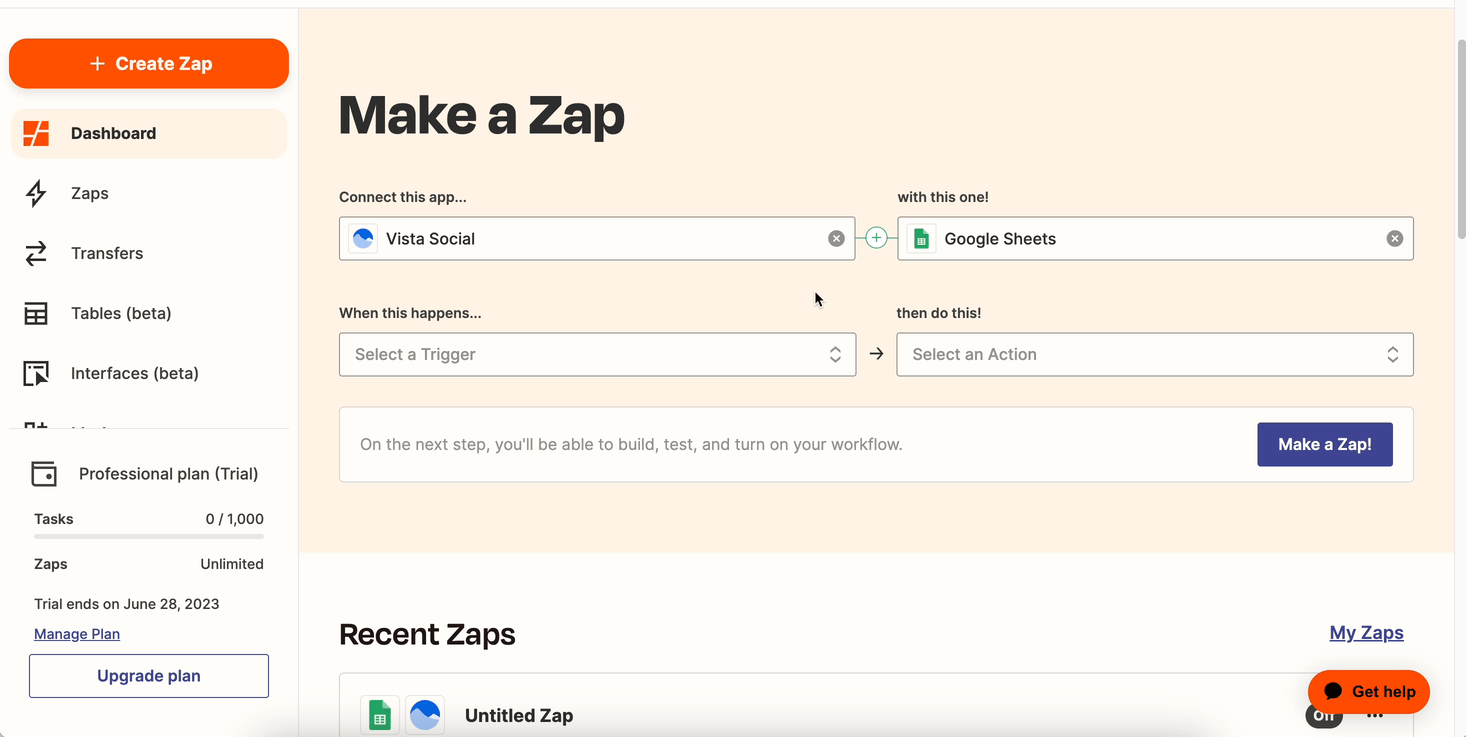 Coming soon
We are actively working on more features within this integration to help our users do even more with their Zapier integration. The features include:
Deliver notification every time a task is scheduled
Deliver a generated report to a system of your choice
Deliver notification every time a new user is added to your account.
Deliver notification every time a new profile is added or removed from your account.
If you like this integration and have more ideas of what we can build, please send us a note by filling out this request feature form.
Rate limits
Our Zapier integration is intended to be used for personal automation. It is not intended for high volume automations across enterprises. If you are looking for high volume solutions, please contact our support. To prevent abuse the following limits are applied to our Zapier integration
Per minute limit
Users can make 60 requests every minute. This is 3,600 requests every hour.
Rate limit violations
You should monitor your usage. To help with this you can monitor x-vs-rate-limit-remaining header that will have remaining number of requests this minute. If you run into a rate limit error, you should pause for a minute. If you violate rate limit limits more then 10 times per hour, your Zapier key will be deactivated.
Related Reading:
Bulk Scheduling - CSV format explained
How to Export Your Calendar in CSV Format
----
Sign-up now and enjoy Vista Social's fully featured free plan as you get started, or try our full toolkit priced to make social media management affordable!