Schedule posts to Facebook Groups that you own by connecting them to Vista Social!
IMPORTANT: Due to the roll out of Facebook new page experience, the process for connecting Facebook group has now changed due to ongoing issue on Facebook where Group owner can no longer link a page to the group via 'Linked Pages' in Group Settings. This appears to be a known issue on Facebook.
Old vs. New Page Experience
In order to connect old page experience pages to the group, group owners simply needed to link a group to a page by going to Group Settings > Linked Pages like so
New page experience pages however do not show up in the list of LinkedIn pages like the old once used to be. This is actually the issue that Facebook is having and it is unclear when they will fix it. In the meantime. Since you can't link the pages to groups you will have to make the page an admin of the group like this:
In group settings, head over to "Who can join the group" and allow pages.
Now using your page join the group, let the group owner accept the request.
Group owner should now make this page an admin of the page. Note that page has to accept this request.
Connect your Facebook Group to Vista Social
1. Go to Quick Add > Add Social Profile



2. Choose a profile group to add the profile to.
You may create a new one if the profile group is not on the list yet. Click Continue.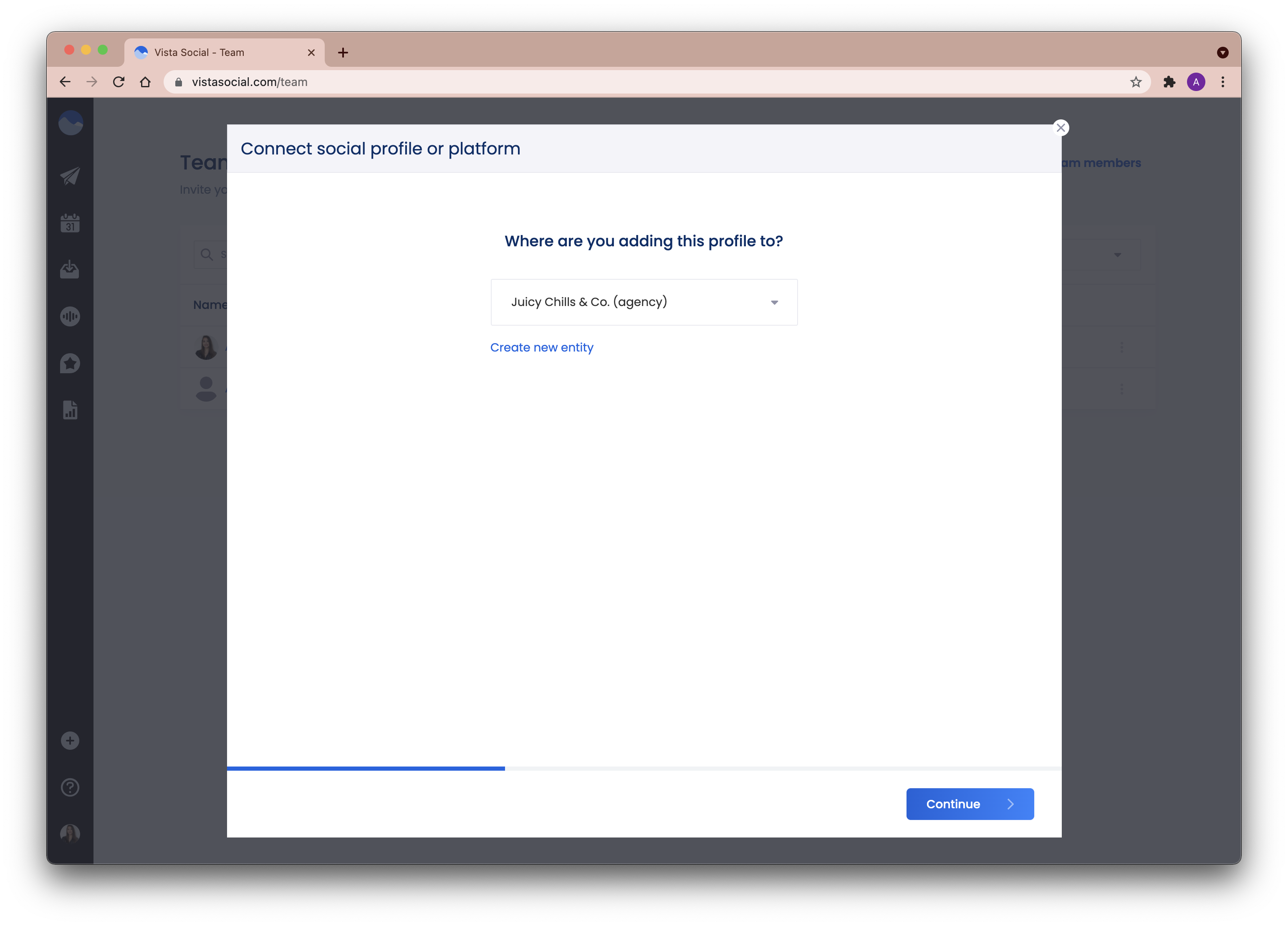 3. Select Facebook from the list of social networks.


4. You will be redirected to Facebook
Make sure you are logged in to the Facebook profile that has admin access to the Facebook page you want to connect. This redirect maybe invisible if you have connected profiles to Vista Social before


5. You will have to authenticate and authorize Vista Social
Make sure NOT to modify any settings and just click Continue.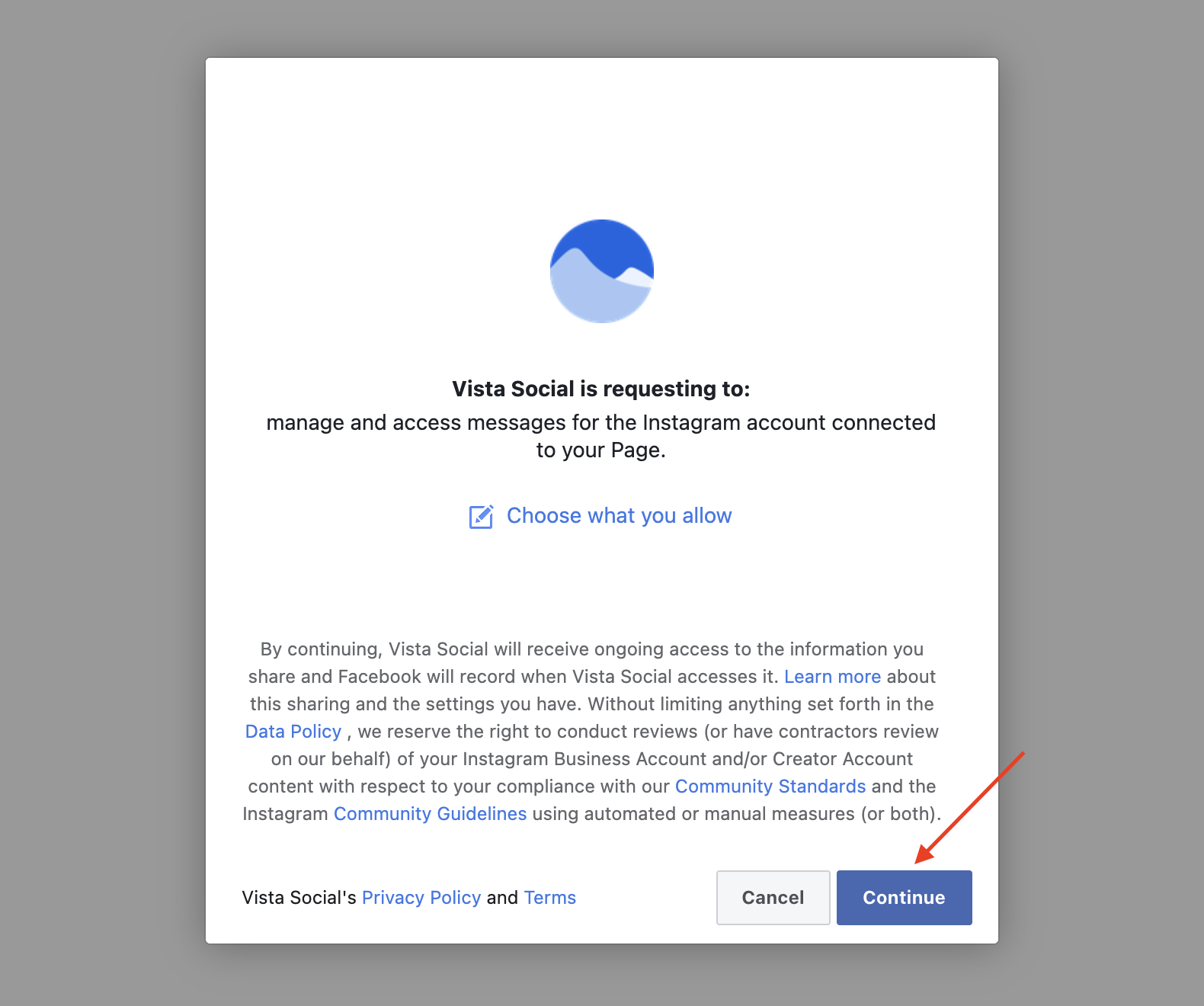 6. You will now see the list of Facebook groups you own or administer.
IMPORTANT: Please note that this list will only show groups that you manage personally and groups that your 'old experience' pages are administrators of. If you are looking to connect a group that your 'new page experience' group is an admin off please click "Connecting groups to new experience pages" link
7. New Page experience connection popup
If you are connecting a group that a new page experience your own is an admin of, you will click "Connecting groups to new experience pages" link and see a popup that looks like this.
Please copy paste a numeric id of group and select a page from the dropdown. Press Connect when you are ready. Not sure where to get a numeric id for your group? Please read this support article.
8. Done
Once the profile is successfully connected you will get a notification and the profile will appear under Profile Management.
Add the Vista Social App in Facebook Group Settings
1. Once you have the profile connected in Vista Social, go back to your Facebook Group and go to Group settings.
2. Scroll down to Manage advanced settings and click the pencil icon right beside Apps.
3. Click Add apps to add a group app.
4. On the left side of the page, type Vista Social on the search bar. Once the app appears on the right side, click on it.
5. Click Add to add the app to the group.
You're all set! You may now start scheduling posts to your Facebook group via Vista Social!