When it comes to managing multiple social media profiles, Vista Social offers flexible options to suit your needs. Let's dive into the details of how many profiles you can connect on each subscription plan!
Choose your plan
Pro Plan
Starting at $15.00, the Pro plan includes your first 5 social profiles and allows up to 3 users.
Any additional profiles you'll be connecting will cost you $3.00 each.
Pro+ Plan
With a starting price of $25.00 for the Pro+ plan, you can connect and manage 5 profiles at the advantage of unlimited users.
Any additional profiles you'll be connecting will cost you $5.00 each.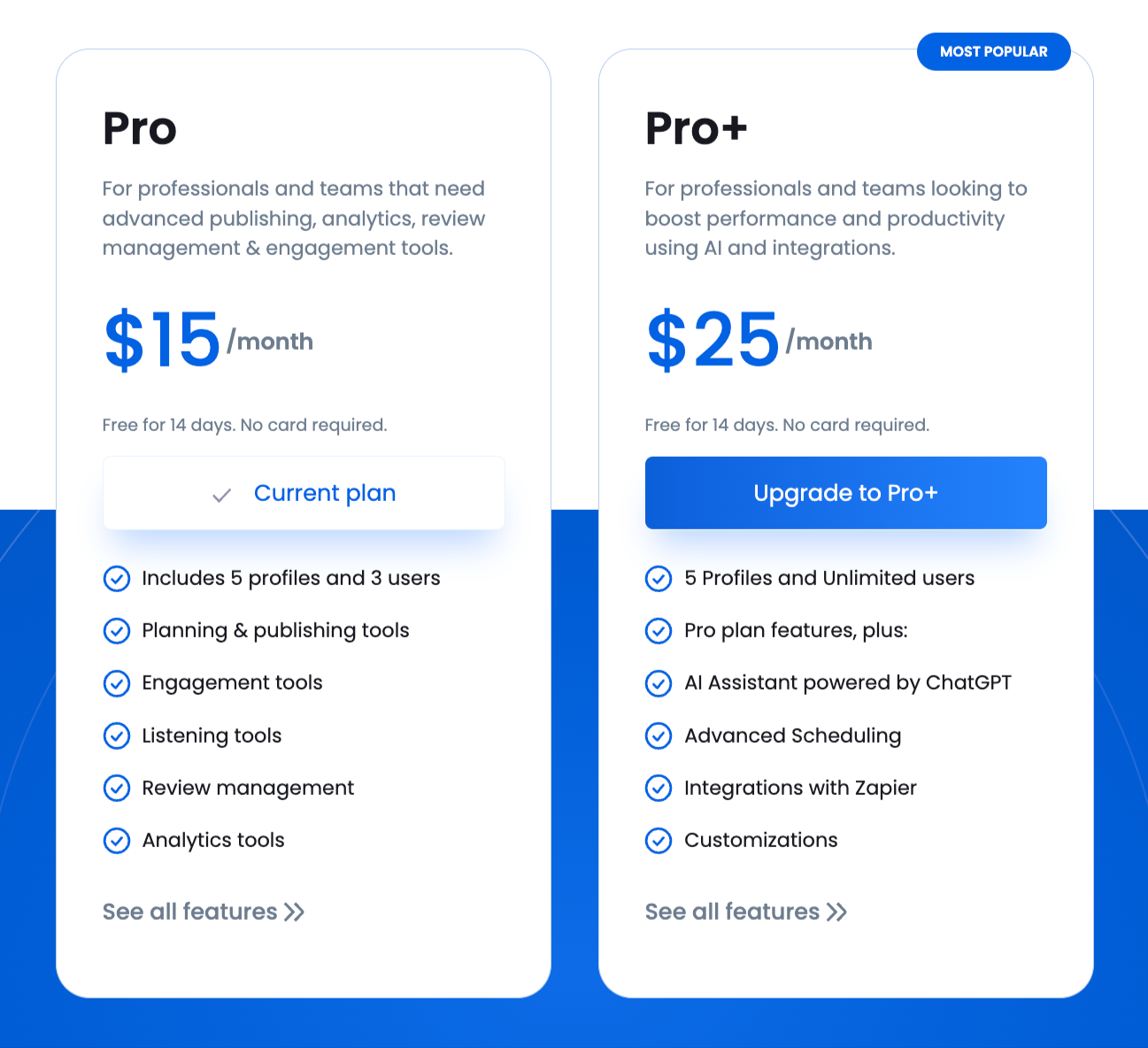 Want to connect additional profiles to your subscription? No problem! We offer the flexibility to add more profiles based on your needs. To learn more about adjusting your profile count, head over to our help article which provides step-by-step instructions on increasing or decreasing the number of profiles in your billing area.
Annual Discounts
If you're looking for even more value, Vista Social offers a discounted offer for annual billing on both the Pro and Pro+ plans. By opting for annual billing, you can enjoy significant savings on your subscription!
With the annual billing option, the Pro plan drops to $2 per month per profile, while the Pro+ plan is available at $4 per month per profile. This means you can take advantage of the same great features and benefits at a reduced cost, making it a cost-effective choice for long-term usage.
For a detailed breakdown of each plan's features, feel free to check our pricing page here.
Related Reading:
What happens when you downgrade to the Free plan
---
Sign-up now and enjoy Vista Social's fully featured free plan as you get started, or try our full toolkit priced to make social media management affordable!